Be warned tube snackers, there is a
Facebook page
and Tumblr posting stealth snaps of
women tucking into food
on the underground.
Women Who Eat on Tubes has been going for a while, but suddenly went viral. Contributors post photos of unsuspecting women eating on the tube without their permission for others to comment on.
People were obviously
not amused
and a little confused about the whole thing, calling the site 'creepy'.
Facebook has since frozen the group, however a new one with the same name has since been born and the Tumblr still exists.
I just ANGRILY ate my lunch while thinking about that women who eat on tubes guy and now my jaw is tired from anger chewing

— Emily Nicholls (@emilyj_) April 7, 2014
Not so, says founder Tony Burke, who told
the Telegraph
it isn't 'weird' or about shaming, it is a form of observational art.
"At its truest form," Burke explains, "it should cherish its subjects in the way a wildlife photographer cherishes a kingfisher in a river."
Sorry, but no.
Can't a girl just
eat a tube McDonald's
in peace of an evening? Jeeze. We also eagerly await our starring turn in 'women who
poorly apply eyeliner
on the bus.'
In response to the public outcry, there was a rebuttal of shaming in the form of a
'Men who post on Women who eat on Tubes' page
, where snaps of the contributors to the site are posted, presumably sourced from their Facebook pages.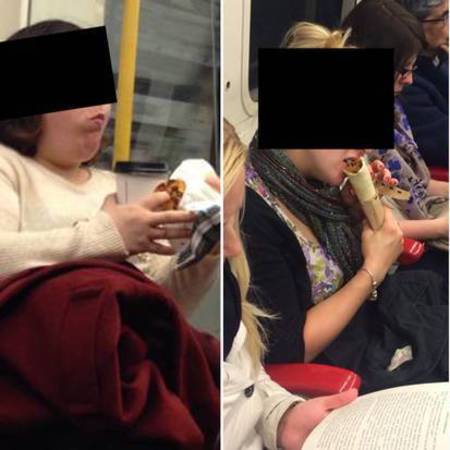 But do two trolls make a right?
Well with over 500 members, it seems some women think so.
One example names a contributor to WWEOT with a photo of him wearing a vest, saying, "[he] posted a photo of a woman 'gobbling sushi' on the tube. Here he is seen breaking the world record for amount of chest on display while still technically
wearing a top."
While we disagree with the page in every sense (stop being silly boys) - this
reciprocal shaming
can not be the answer.
Listen to the creator's defence on BBC Radio 4 today:
What do you think? Tweet us your thoughts
@handbagcom
WHY RYAN GOSLING WILL PROBABLY CHEAT ON YOU
WHAT POINT IS LILY ALLEN ACTUALLY PROVING?
THE LATEST NEWS FROM HANDBAG.COM