Kate Middleton
's sister Pippa has given her first media interview since she was catapulted into the limelight as, well,
Kate Middleton's sister.
The 30-year-old writer slash party planner spoke to Matt Lauer from NBC to talk all things Kate,
famous bridesmaid dresses
and how she feels bullied by the media. Oh.
Still on Google, the most searched for thing about the other Middleton sister is '
Pippa Middleton bum
' (times we live in people), so what does she think about her derrière being so famous?
"It was completely unexpected," she said. "You know, I think the plan was not really for it to be a significant dress. Really just to sort of blend in with the train."
"It's actually still in my wardrobe at home," she continued. "I haven't worn it since. But I think I'll just keep it there...I think it's the sort of thing that I'm sure I'll bring out if someone wanted to see it or my children one day want to see it."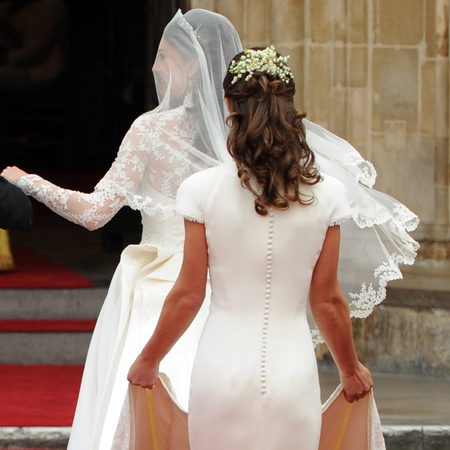 Pippa then went on to confirm that her and Kate have a completely normal, average girl, relationship.
"We have a very normal, sisterly relationship. We're very close. And, you know, we support each other and get each other's opinions and things."
"I mean, obviously she has pressures that she's taken on and things. But we spend a lot of time together. We still do a lot together as a family," she continued.
Despite having her column
dropped by The Telegraph
and Waitrose and her
party-planning book Celebrate
not being received well (it only sold 18,000 copies in America causing her US publishers to drop the writer), Pippa still has media aspirations.
She is also on the cover of
Hello!
next week discussing her relationship with Kate (again) and then there are rumours that this interview with NBC is just a spring board to a correspondent job with the TV company in America. Watch this perfectly pert space.
Pippa on TV? Discuss
@handbagcom
Pippa Middleton speaks to HELLO! about her sisterly bond with the Duchess of Cambridge: http://t.co/5WfUmnUCgW pic.twitter.com/OoBomwanSm

— HELLO! (@hellomag) June 30, 2014
PIPPA GETS THE SACK
WHY EVERYONE WANTS KATE MIDDLETON'S NOSE
MORE CELEB NEWS