Jennifer Lawrence
's lawyers have earned their wages this month as
OK!
magazine in America had to print an apology for making up that she was engaged to Nicholas Hoult.
The mag ran the story in January claiming that Hoult got down on one knee and proposed to Lawrence over Christmas with a $250,000
engagement ring.
Lies.
Hoult wasn't even in America for Christmas, the apology reads - he was back here living it up in Blighty.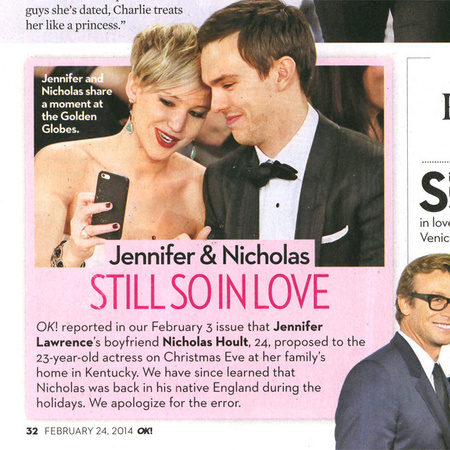 At the time of going to press, the magazine was slated for just plain making stuff up and
upsetting Hunger Games fans
who get through life holding on to hope that she will end up married to Peeta.
Is jennifer lawrence really engaged im freaking out because its not josh

— Lauren Malone (@Lauren_malone_) January 21, 2014
The apology is impressive work by Lawrence's legal team and shows JLaw is not prepared to let people talk rubbish about her personal life.
Imagine if you saw an apology every time the gossip mags claimed Jennifer
Aniston was pregnant/single/depressed for being both pregnant and single?
Thoughts? Tweet us
@handbagcom
IS LUPITA NYONG'O THE NEW JENNIFER LAWRENCE?
BLING BLING! CELEBRITY ENGAGEMENT RING PHOTOS
MORE WEDDING NEWS