Miley Cyrus has taken a short break from
going on stage on her Bangerz tour in her actual underwear
, to get an emoji
tattooed
onto her lip.
Talk about the new digital generation.
Well, if you're wondering 'what as she on?!' You may not be far off.
In an accompanying photo posted by someone who appears to have been with her at the time, she's rolling
a somewhat suspicious cigarette.
Oh, and also the caption reads, "Yup...... Recordin with Miley... High as fuck....".
That snap was posted just a few hours before Miley showed the world her 'sad kitty' lip tattoo.
Can you think of anywhere more painful...oh yes, well.
Personally we're happy with
a statement lipstick.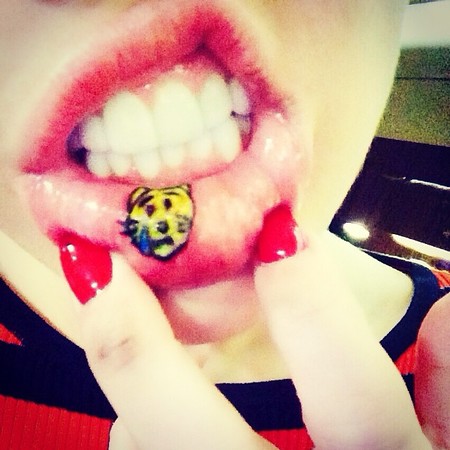 If you could have any emoticon tattooed onto you what would it be - right now we feel like the monkey covering their eyes.
Tweet us
@handbagcom
MILEY FELT SHY PERFORMING IN ACTUAL BRA AND PANTS
THAT'S A SUSPICIOUS LOOKING CIGARETTE CARA
MORE CELEB NEWS