Master baker
Peggy Porschen
has made wedding cakes for Kate Moss and Stella McCartney, so this woman knows a thing or two about show stopping sugar.
We asked Peggy to give us her top five tips for picking the perfect wedding cake for your big day...
1. Before arranging a tasting and design consultation, a bride should ideally have the venue booked and a clear idea of the colours, flowers, theme and over all feel planned for the day.
This will help them to choose a design that fits perfectly and complements all of the other elements involved in the wedding.
2. A bride should consider the size of their venue as the cake will need to stand out as a centrepiece, as well as the number of guests it needs to feed and any special dietary requirements that she needs to cater for.
3. A bride should consider where and when they plan to cut the cake.
Will the cake be served as dessert, served later with coffee or given as favours? This may affect the fillings that are chosen.
4. When it comes to choosing your filling, it may not be possible to please everybody but why not opt for a different flavour for each tier?
Most of my brides opt for a selection of different fillings to keeps things fun yet maintain tradition with a traditional fruit cake for the top tier to keep for the Christening.
5. Go with your first instinct, don't try and please everyone as it's impossible, just be true to yourself and your vision for the day.
Follow your heart rather than your head.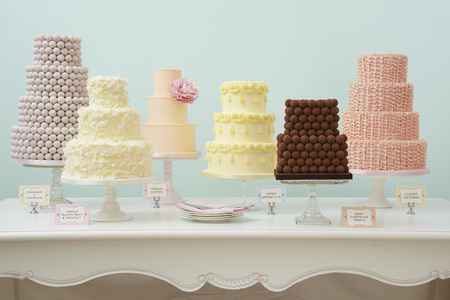 For more info, visit
peggyporschen.com
The best fictional wedding dresses
Peggy Porschen's Glorious Victoria Cake recipe
Have a go at Great British Bake Off's Fondant Fancies recipe