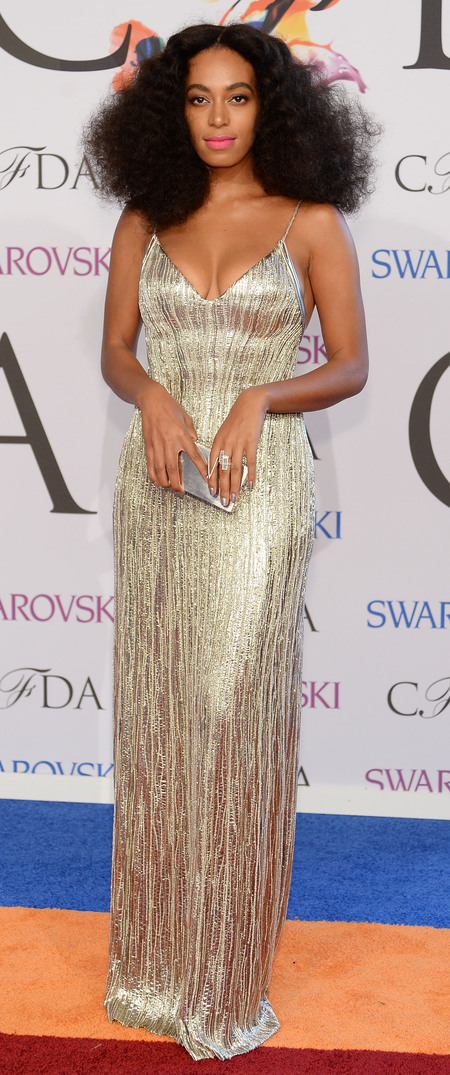 Solange
Knowles made her first public appearance since her
lift fight at the Met Gala
with brother-in-law Jay Z.
Walking the
red carpet at the Council of Fashion Designers of America
last night, Solange wore a gold custom Calvin Klein dress and
pink lipstick
with big, big hair. Very Diana Ross.
Unfortunately, things that have been seen can not be unseen. Or can they?
It seems the
Beyonce PR machine
might have tried to brush the whole thing under the carpet, but all Solange needed was a good dress.
Photos on her Instagram
were swarmed with appreciative comments; "The best revenge is looking good I say," said one fan, whereas another went with, "U r beautiful even more than ur fake ass sister." Ouch.
Added to the fact
Solange's record sales are up
since the whole event, Solange seems to have come out of this fighting (Sorry not sorry).
So has Solange come out better off than Beyonce? Tweet us
@handbagcom
Best hair & makeup from the Met Gala
WAS THE SOLANGE ATTACK ON JAY Z ALL A STUNT?
HOW TO HANDLE A PR CRISIS LIKE BEYONCE
MORE CELEB FASHION NEWS