Don't be a stickler for tradition at your wedding. Have some fun by making this budget friendly and completely cute tiered Rice Krispie cake.
If you having a DIY wedding, or love retro touches - you can make this yourself at home with minimal cost and effort.
Use this basic recipe and adjust quantities according to the shape and size of your tins, and how many tiers you would like.
Rice Krispie wedding cake
Makes a 32cm x 23cm tin
45g butter
300g mini marshmallows
180g rice krispies
Method
Melt the butter in a large, heavy-based saucepan over a low heat.
Add the marshmallows and gently cook until they are melted with the butter. Stir continually.
Take the mix off the heat and add the cereal immediately, until it is well coated.
Grease and line your tin with baking parchment.
Press the cereal mix into it, making sure it evenly fills the space. You may have to butter your spatula to help as the mix is very sticky!
Wait until it has completely cooled and then remove your tier from the tin.
Get creative making additional tiers, or decorating with ribbon, and of course, your miniature bride and groom!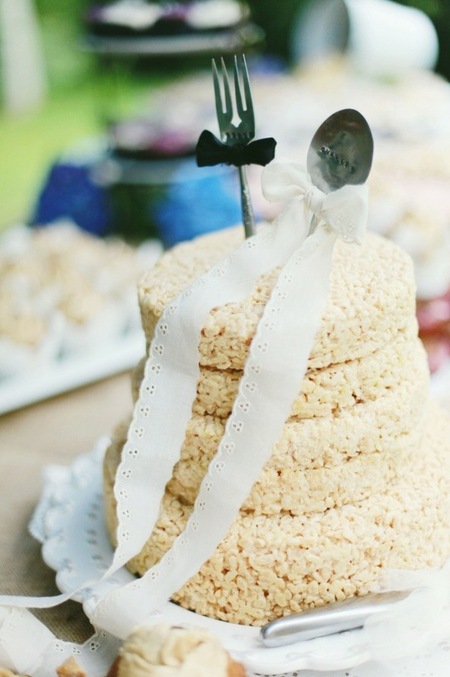 MILEY CYRUS PLANS THREE WEDDINGS
HOW TO BUY A VINTAGE WEDDING DRESS
HOW TO PICK YOUR PERFECT WEDDING CAKE