If you're planning on buying a vintage wedding dress, make sure you pick the decade that was designed to suit your body shape.
Expert vintage wedding dress stylist
Zoe Lem
shares her knowledge to help you find 'the one'...
"Each era comes with quite a different silhouette so make sure you choose carefully to find your perfect shape.
1920s
1920s are harder to wear if you are curvy as traditionally this is an era for the straight up and down girls.
The decadence is beautiful but it is the hardest era on a body as it is rarely anyone's most flattering shape.
You can bring in the styling elements of the 20s with any shape by looking to deco details, bead work and panelling.
1930s
The 1930s are all about the bias cut and diamond panelling which moulds around the body.
Many people think that this clings to everything and is just for skinny girls, but it's not true!
You need curves for the bias cut to mould around so is great on an hour glass figure. It is all about balance so as long as the dress is balanced at the shoulders and hips with a nipped in waist it is great.
If you are pear shaped the 30s can still be an era for you - it is just important to bring definition to the shoulders whether with a gathered, butterfly sleeve, bolero or shoulder detail.
1940s
The 40s are often forgotten about when it comes to bridal.
We think of the tea dresses and remember the wartime styling but when it comes to evening wear we forget about all of the great Hollywood ladies such as Rita Hayworth and Elizabeth Taylor.
There is less gather than the 50s so it's more forgiving around the hips.
High waisted dresses were a big part of the silhouette which is most women's smallest bit so it's very flattering.
A lot of the dresses also add volume on the hips which is great for a straight up and down girl as it gives an hour glass silhouette.
1950s
The silhouette that we know and love from the 50s is the gathered full skirt with petticoats. It can add volume so the real gathered waists are good for a straight up and down figure.
The other silhouette is the pencil skirt shape which on a curvy hour glass is very flattering as long as the balance is in the shoulders.
For a pear shape, go for more of an A-line skirt shape. Avoid the strapless and sweetheart necklines as they can make you look even more pear shaped. Belt it high so above the waist to nip in at your smallest bit.
1960s
Many of the 60s silhouettes are reminiscent of the 20s straight shapes and are good for a straight up and down figure.
It is a harder look for pear shapes as it can cling to all the wrong bits but an hour glass can work well as long as you still have a bit of curve in the waist or it's belted.
Be careful of the dress length as you want it to finish at the smallest part of you leg - generally just above or just below the knee is good.
If you like the 60s style but the shapes don't work on your shape - pick out some of the styling, block colour and pattern, clean line simple cuts, or curved seams.
1970s
The 70s took a lot of inspiration from the 30s so many of the same rules apply.
The maxi length was popular which is not so great if you are more petite it can make you look shorter. A baby doll length would be better.
Empire line can be very flattering as it nips in at your smallest bit but be careful if you are hour glass or pear shaped to avoid a gathered empire line.
Don't forget sleeves if you are pear shaped as bell sleeves or tulip add balance."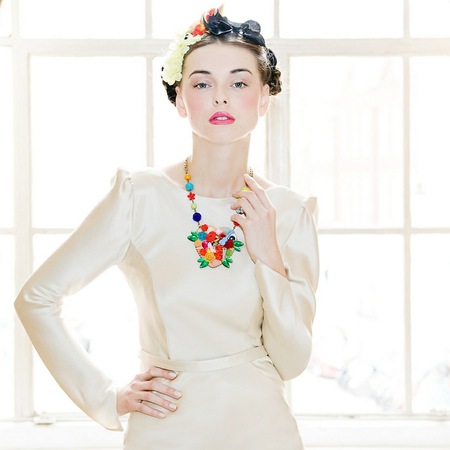 For more information visit
zoelem.co.uk
HOW TO BUY A VINTAGE WEDDING DRESS
HOW TO HANDLE SEEING YOUR EX AT A WEDDING
THE ONE? BENJAMIN ROBERTS WEDDING DRESS