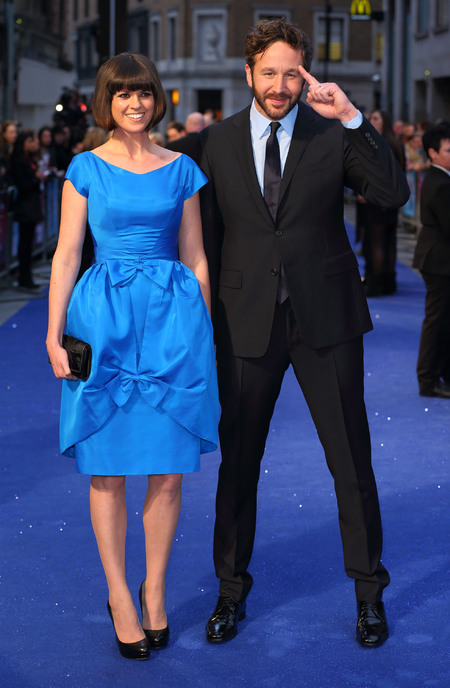 Taking on your partner's surname could soon be a thing of the past as more and more couples are choosing to mix their two surnames together to create a brand new identity.
The trend started with actor Aaron Johnson, who changed his name to Aaron Taylor Johnson when he got married to
Sam Taylor Wood
(who's now Sam Taylor Johnson).
We let out a collective sigh when he took on her name just as she took on his. Very romantic!
Cut forward a few years and TV personality Dawn Porter has changed her name to Dawn O'Porter to represent her marriage to Irish funny-man Chris O'Dowd.
Apparently, this practise is known as 'Meshing', which started in the US six years ago and has slowly started spreading across the pond.
The latest stats suggest over 800 British couples have fused their surnames, causing the UK Deed Poll Service to create a separate service to stay on top of demand.
Those who are pro-'Meshing' say the practise reflects the unity between couples and is symbolic of their desire to
start fresh on an even platform.
But, don't get too excited because there are plenty of couples sticking to the traditional option, like Jessica Biel who took on her husband Justin Timberlake's name after
they got married
.
To test the 'Meshing' theory we've spliced together some famous celeb surnames for your consideration.
Let us know what you think...
Angelina and Brad Jitt
Jessica and Justin Bimberlake
David and Victoria Ackham
Beyonce and Jay-Z Knowler
Tess and Vernon Kaly
Blake and Ryan Livnolds
Kim and Kanye Washian
What do you think?
AVRIL LAVIGNE PLANS UNIQUE ROCK WEDDING
BRIDAL BOUTIQUE: ACCESSORIZE REGAL EARRINGS
3 BEST WEDDING DRESS FIGHTS