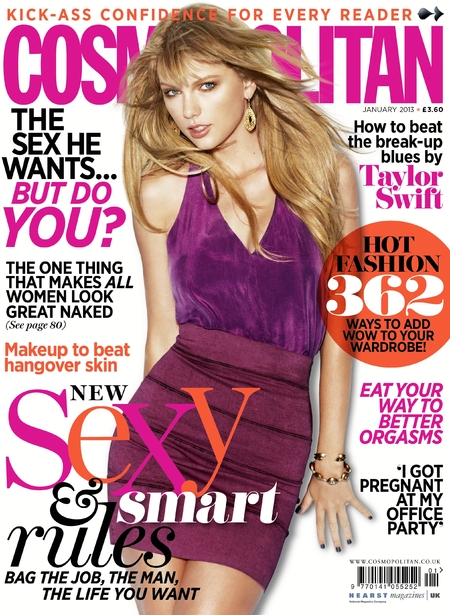 Taylor Swift
has opened up to Cosmopolitan magazine about why she doesn't have any rules when it comes to dating.
She might manage to bag some of the hottest stars around but she's had her fair share of heartbreak over the years.
When asked what she still doesn't understand about relationships, the multi-award winning singer songwriter said, "How to make them last. I've never had a really long relationship, so I have no idea what that's like. Wish me luck for the future!"
Tay tay has recently dated guys a bit younger than her and she reveals that she doesn't follow any rules when it comes to love.
She said, "I really don't have any rules about dating when it comes to height, age, career choice, anything like that.
"It doesn't matter. It's really more about strength of character. When it comes to age I've been all over the map!"
Taylor also admits that she can't resist a bad boy as she said, "I think that idea of love I hope for is that you learn a lesson and you don't have to learn it twice.
"But the song I Knew You Were Trouble is about when I knowingly made the same mistake twice.
"I couldn't resist it – there's that temptation to push yourself into a risky situation with someone who is going to hurt you, and that's what that song is about: not trusting your own instincts and ignoring all the red flags."
When asked if some of her ex-boyfriends contact her about songs she's supposedly written about them she said, "Yes. Only the vocal ones though.
"The ones that love the sound of their own voice, whether it be an email or text message… or barrage of text messages. But it's only happened a few times with the ones that really were choice human beings.
"The thing is, they're just guessing that the song is about them. I put details in my songs but never first and last names, and I definitely don't include social-security numbers!"
The full interview appears in the December issue of British Cosmopolitan, on sale today.
What do you think? Leave a comment below to
be in with a chance of winning a £100 goodie bag
TAYLOR SWIFT AND HARRY STYLES GO PUBLIC
TAYLOR SWIFT - ALBUM REVIEW
GISELE GIVES BIRTH TO BABY GIRL?