When it comes to organising a big white wedding, the party planners at Quintessentially Weddings have plenty of expert advice up their silk sleeves.
So if you've recently got engaged or you just need a shove in the right direction here are some planning tips to get you started...
1.
Put all of your receipts, hot contacts, payment dates and essentials in a wedding planner – we love Smythson's beautiful
Panama versions
.
2.
Always tackle the formal 'musts' of a wedding first, such as booking the ceremony, registrar and finding a caterer so guests are well fed and watered before you plan the prettier bits.
3.
The to-do list is your friend. Divide tasks into short and long term and make sure to give everything a deadline.
4.
Don't be afraid to delegate tasks, but only concerning the things you don't have strong opinions about. Someone else's taste and choice of flowers, music, cake or cocktails might niggle on the day.
5.
Play safe, and have a contingency fund – 77% of weddings go over budget.
6.
Hone your focus down to the three key things that you care most about for your wedding. If you cinch these, any extras are just added bonuses! If for instance you dream of a party ending in a flurry of fireworks, armfuls of lily of the valley or a Vera Wang frock, organise these first and foremost. (Eyes on the prize).
7.
When you are tempted to buy items or seduced into overspending, stop and think 'Do I really love it? Can I imagine my wedding without it?' – if the answer is no, then by all means splurge but be prepared to make savings elsewhere.
8.
Don't get caught up in fads or fashions: even Kate Moss kept her wedding timelessly elegant.
9.
When making enquiries or haggling, don't mention the 'W' word but simply ask how much it would cost to hire, buy or rent for a 'private party' to gauge prices without the wedding mark-up. Once suppliers come back to you with a price, be nice but firm and offer 2/3 below your ceiling to open discussion. Try saying 'I was hoping for something more like £X….' and leave suppliers to decide whether to cut a deal.
10.
Get good at asking. You'll be surprised at the extras some suppliers will offer if you ask nicely, and equally how bad some of them can be with providing receipts, confirmation of bookings etc. You're not being a nag or a bridezilla if you ask politely, just being sensible.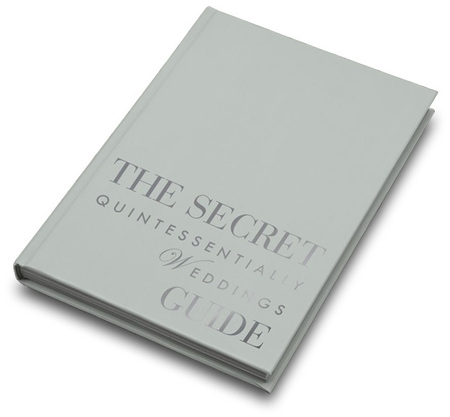 The Secret Quintessentially Weddings Guide
, £24.99,
quintessentiallyweddings.com
.
IS THIS THE ONE? HALFPENNY TAFFETA DRESS
WINTER WONDERLAND WEDDING ACCESSORISES
HOW TO FEEL SEXIER TONIGHT