They've been on and off for months but after spending Christmas with deadmau5's family,
Kat Von D
is now the proud owner of a very unique engagement ring.
The tattooed beauty showed off an unusual black diamond ring that she received over Christmas at the family home of music producer and DJ Deadmau5; real name Joel Thomas Zimmerman.
The ring comprises a huge black diamond flanked by silver skulls, which is very in keeping with Kat's gothic style.
The celebrity tattoo artist very proudly accepted her boyfriend's online proposal through the magic of Twitter.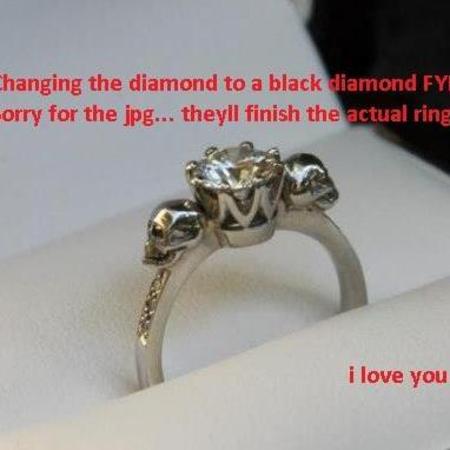 "I can't wait for Christmas so.... Katherine Von Drachenberg, will you marry me?" 31-year-old Deadmau5 wrote, accompanied by an annotated photo of the ring, shown above.
Kat, 30, promptly tweeted in response: "Mi corazon! Thank you all for the lovely congratulations! Please excuse me while I go squeeze the hell out of my fiance!"
Von Drachenberg has demonstrated her love for the music producer by giving him a star tattoo below his eye to match her own.
What do you think? Leave a comment below to
be in with a chance of winning a £100 goodie bag
BRITNEY TO BE AXED FROM 'X FACTOR'?
RIHANNA CAUGHT UP IN LOVE TRIANGLE?
CELEBRITY TREND: FRINGES FOR 2012