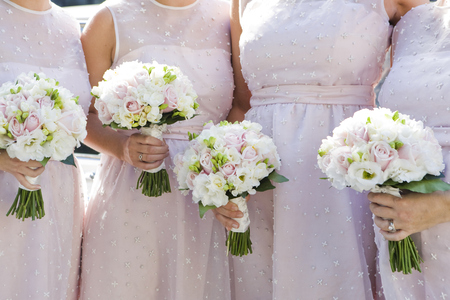 Now that the initial excitement of being given the coveted Made of Honour role at your best mates wedding has disappeared, you're left with a feeling of dread, right?
Being the top bridesmaid is no easy task and it takes time, energy, effort and organisational skills to pull off to perfection. If you're feeling overwhelmed, take a look at these top six ways to get a grip on your MoH role...
1. Get organised
Start by making a note of all the important dates (wedding day, hen weekend, bridesmaid dress fittings), get in contact with the bride's family and any friends she has that you don't know. Once you've got all their telephone numbers and email addresses you can start to plan the hen party with their help. If there are lots of people to consider, set up a separate email account or use Facebook as a way to stay connected.
Don't forget to find out what the bride expects from you. She might want you to organise everything from the hen to the bridesmaid dresses, but she might just want a few hours help finding the perfect dress. Never assume!
2. Be realistic
So, your bride-to-be wants her 30-strong hen party to go to Las Vegas for two weeks. Sounds good in theory but horrendous in practice. She might be floating on cloud nine, but you need to be the one who takes into account budget, flights, planning and time off work. Don't be afraid to offer different more realistic suggestions.
3. Be available
As Maid of Honour you'll need to be the shoulder to cry on, the flower arrangement supervisor and the dress hunter. Although these duties might take time out of your busy week, remember that you have been trusted with this role because she thinks you're the person for the job. Enjoy it!
4. Don't leave anything to chance
Phrases like 'Oh, she'll turn up' and 'We'll get the money from somewhere' should never pass your lips as MoH. Leave nothing to chance, arrange everything, always have a plan B and don't assume other people have got your back. The other bridesmaid may wax lyrical about how involved they want to be, but when it comes to booking flights on their credit card they might have second thoughts.
5. Be enthusiastic
Even if your bride-to-be tries on the most hideous dress ever created, you should remain positive. Instead of making faux gagging sounds and saying she looks like a beached whale, simply explain that you've seen her in more stunning designs. If the best man has been hitting on you for 24 hours straight, don't go moaning to the bride...deal with the situation and stay positive (even if it is just for the big day).
6. Be prepared
We know you want to look great in the official wedding photos, but you will need to think of the practicalities too. Fill your clutch bag with bobby pins, tissues, paracetamol, lipstick, mints and other essentials that the bride might need throughout the day. She'll thank you when a lock of hair falls out of her neatly braided up do...
What are your top tips for Maid of Honour duties?
Leave a comment below to
be in with a chance of winning a £100 goodie bag
.
TOP TIPS FOR GETTING MARRIED IN ITALY
KIM KARDASHIAN & KANYE'S WEDDING PLANS
CELEBRITY WEDDINGS WE CAN'T WAIT TO SEE