These fantastic books combine great story lines, interesting characters and dramatic plot twists with high-end fashion. Here are our top five fashion fiction books to unleash your inner fashionista...
The Devil Wears Prada
by Lauren Weisberger, £7.99,
amazon.co.uk
.
Andy takes a high pressure secretarial job with the biggest fashion magazine in New York only to be tormented by it's slightly psychotic Editor-in-Chief.
The Secret Lives of Dresses
by Erin McKean, £6.99,
amazon.co.uk
.
The right dress really can change your life if this romantic book is anything to go by! Dora is in love with a man who barely notices her, so she travels back to her childhood home and takes over the running of her late Grandma's vintage clothes shop. By matchmaking people with dresses can she find her own happy ending? We could tell you, but we don't want to ruin it!
Confessions of a Shopaholic
by Sophie Kinsella, £7.99,
amazon.co.uk
.
Rebecca is addicted to spending money, so when she's faced with massive debts she tries to get a job at a fashion mag...only to end up writing about finances, savings and investments when her interview situation goes horribly wrong. Funny, heart-warming and romantic.
Confessions of a Fashionista
by Angela Clarke, £7.99,
amazon.co.uk
.
Okay, so this isn't technically fiction but the author (who wrote an anonymous 'Confessions of a Fashionista' column for years) has finally revealed her identity and the true story of her life in the fashion industry. After a painful break-up, the 'Fashionista' lands a place on Harrods' graduate scheme and enters the world of high fashion and couture. Every girls dream? Think again...
Material Girl (aka Fashion Babylon)
by Imogen Edwards-Jones and Anonymous, £6.99,
amazon.co.uk
.
A young designer is constantly undermined by her credit-stealing boss, so she decided to go it alone. Seriously catty, high pressure fashion antics ensue...could you handle the pressure?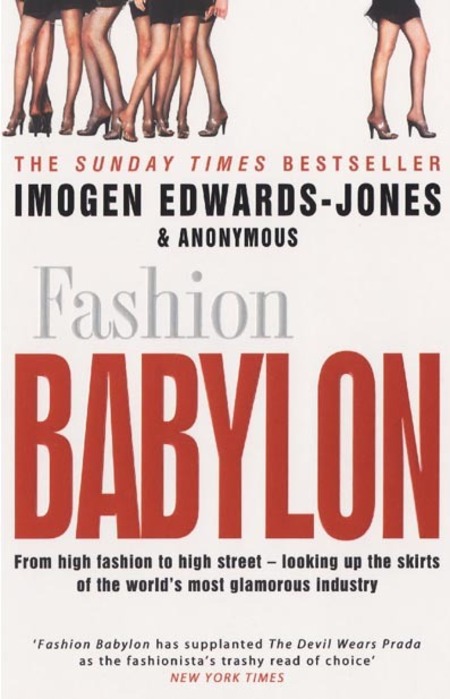 Have you read any fashionable fiction recently?
Leave a comment below to
be in with a chance of winning a £100 goodie bag
.
LANCE ARMSTRONG SUED OVER 'WORKS OF FICTION'
5 CELEBS WHO SHOULD WRITE AN AUTOBIOGRAPHY
READING LIST: 3 BOOKS TO CRY TO