Blackberry have unveiled their new smartphone offerings to take on the might of Apple's iPhone and Samsung's Galaxy.
The touch screen Z10 and the Q10 (which comes with a keyboard) run new Blackberry 10 software and come with over 70,000 apps available and the ability to switch between work and personal profiles.
The Z10 is Blackberry's first completely touch screen device, with 'reinvented' internet, music, camera and email facilities to 'keep you moving' according to the brand's spokesperson Thorsten Heins (pictured above).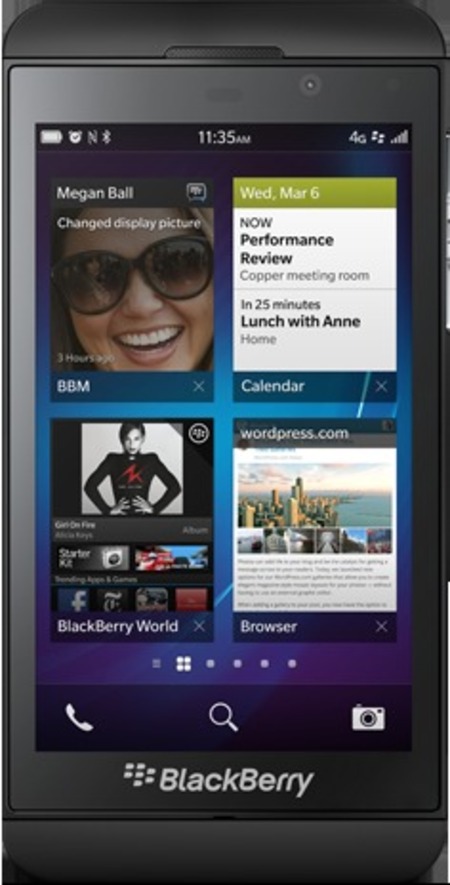 From today you can buy the phone from £36 per month on contract - the same price as the 16GB version of the iPhone 5.
The Z10 has a 4.2-inch display, 2GB ram and 16GB storage, bluetooth and an 8-megapixel camera to keep you entertained, but no 'middle button' to return to main homepage like an iPhone.
Specific to the phone is the new 'Flow and Peak' navigation method that allows users to 'flick' across the screen and glance at their email and other messages without having to open an app.
It also boasts a new features that allows users to switch between personal and business modes - each with its own applications, wallpaper and settings.
Some critics have complained that the Z10 looks like a carbon copy of the iPhone, although testers admit they operate very differently.
So, is this Blackberry's chance to take on the mighty iPhone (especially now
Alicia Keys
is their global ambassador) or will their products still miss the top-spot? Take a look at the demo video below
and let us know what you think...
Leave a comment below to
be in with a chance of winning a £100 goodie bag
.
WOMEN WOULD CHOOSE THEIR PHONES OVER SEX
AMPLIFY YOUR SMARTPHONE WITH A TOUCH SPEAKER
IT'S ALL GEEK TO ME: BRITS BAFFLED BY TECH JARGON