Kim Kardashian
revealed she and boyfriend Kanye West do plan to get married, but they 'don't have a sense of urgency about it.'
The pregnant reality star opened up about her relationship with rapper Kanye, explaining how they'd been friends for almost a decade and never got it together, 'Sometimes you're just not ready. A person could have it all, and you're not ready for it all.'
'But this is where I probably always should have been…[marriage] is something I know that we both want in our future, but I don't have this sense of urgency about it,' she told U.S.
Cosmopolitan
magazine.
She continued, 'I have this best friend who understands me and helps me through all my tough experiences, and vice versa, you know? It just feels like this is it for me.'
Kim is believed to be over four months pregnant with a girl, and due to give birth in July.
Despite being still married to estranged ex Kris Humphries, Kim also confessed she told sister Kourtney off for not being married before having her son Mason in 2009.
'I was like, "You're not married! How could you do this?" I was really firm and strict,' Kim told the mag.
Kim explained that she now see's relationships differently after her 72 day marriage to the NBA star Humphries, 'I saw fast marriages like Khloe and Lamar's and that was what seemed to work.
'[Now] I say give it a good six months before you commit. Feelings change, even if it seems so lustful.'
The bitter divorce proceedings with NBA star Humphries rumble on, however Kim said she is only looking forward, 'I used to think, "Well, can you really have it all? The truth, the excitement, and the passion?" Now I know you can.'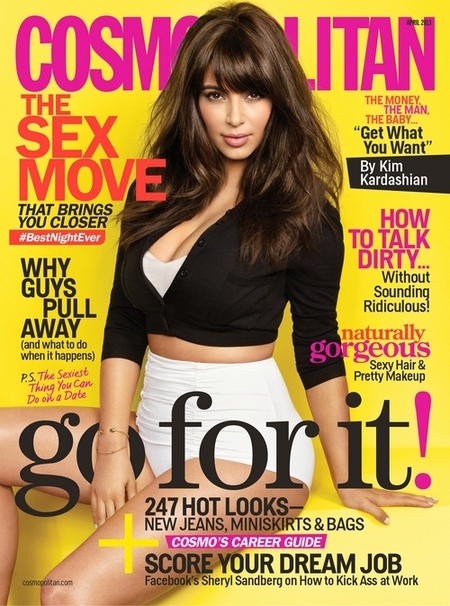 What do you think? Leave a comment below to
be in with a chance of winning a £100 goodie bag
WATCH: PREGNANT KIM KARDASHIAN POSES FOR COSMO
KIM KARDASHIAN AND KANYE WEST NAKED L'OFFICIEL COVER
RED CARPET: CELEBRITY STYLE AT ELTON JOHN'S OSCARS AFTERPARTY