The Seychelles is broken into two parts; the Outer Seychelles and the Inner Seychelles. The Outer Seychelles are uninhabited and unreachable unless you charter a private plane or yacht, but the Inner Seychelles provide the perfect back drop for an unforgettable honeymoon.
Mahé, Praslin and La Digue are the largest islands, while the smaller Silhouette Island and the Inner Corralines are primarily natural wildlife areas. Here's a quick guide to the islands...
Mahé
Mahé is the largest island in the Seychelles, and home to the capital city, Victoria. Once a small fishing port, Victoria is now a hub of tourism, home to some of the most luxurious spas and hotels on the island - perfect if you want to stay on-site and be pampered! Mahé isthe busiest island in the Seychelles, so it's best for those looking for culture and entertainment.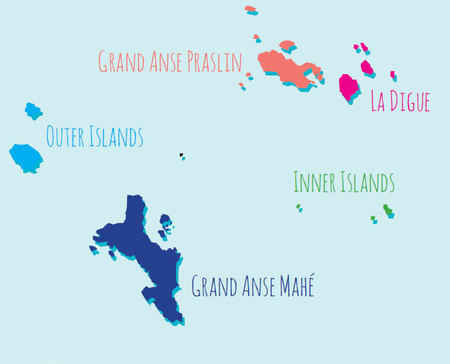 Praslin
Praslin was once a hideout for pirates and merchants, and its picturesque landscape earned it a reputation as the original "Garden of Eden". The famous Vallée de Mai Nature Reserve, a UNESCO World Heritage Site, is a real wonder to explore, home to hundreds of palm trees and exotic birds and wildlife.
La Digue
The small but perfectly-formed La Digue has less to offer in terms of resorts, but its main draw is the L'Anse Source D'Argent, one of the world's top beaches, boasting soft sands, gently weathered pink granite boulders and towering palm trees. If you're hoping to spend your holiday relaxing by the sea, this is the place to go.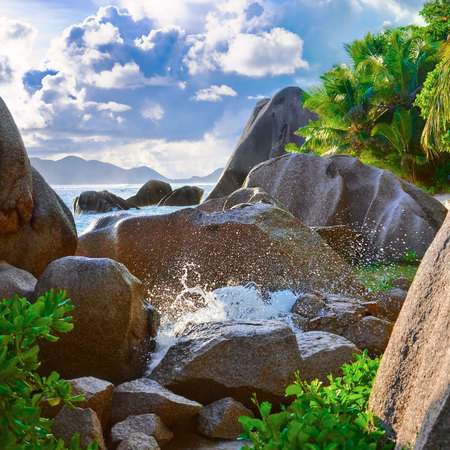 Silhouette Island
Silhouette Island is one of the smallest populated islands in the Seychelles, with just one settlement, La Passe, and only about 150 permanent residents. The island has no man-made roads whatsoever, and has remained untouched by anything other than dedicated conservation experts. This tiny island is considered to be the most significant in the Indian Ocean in terms of biodiversity, and is not to be missed for nature-lovers and explorers!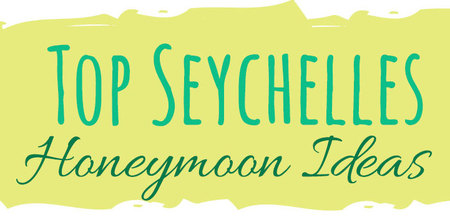 Visit some of the best beaches in the world
Anse Cimitere on Mahé is a soft, secluded beach that offers a peaceful retreat from Mahé's busier areas, and you'll even find a
natural Jacuzzi on the southern end. On La Digue you'll find Anse Source d'Argent, a less crowded paradise with pink sands and crystal waters.
Anse Lazio on Praslin is perfectly tranquil, while it's sister beach Anse Georgette is only accessible by boat making it perfect for privacy seeking couples.
Things to do
Romantic walks:
Nothing says romance like a walk along the beach, hand in hand, watching the sun go down. Start off walking Anse Major, a winding trail through the Morne Seychellois National Park, before exploring the Mission Lodge trail that runs through the colonial ruins of Venn's Town. If you're adventurous types, you could even head to silhouette Island and go treasure-hunting - local folklore has it the notorious pirate Jean Hodul hid his wealth in these fissured mountains and caves!
Diving:
There are a number of diving schools on the island so take some lessons and discover the colourful marine life and beautiful coral reefs together.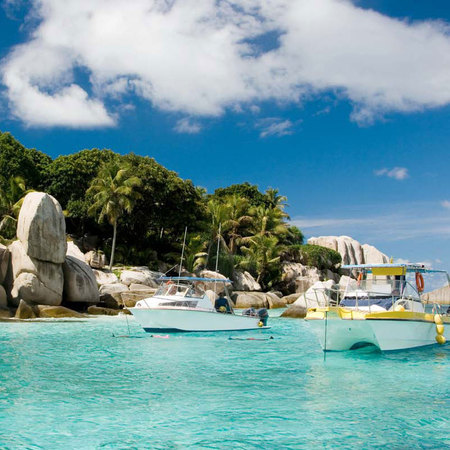 Rock Climbing:
The Seychelles has a huge number of cliffs and peaks, although beginners may be better off starting at the adventure sports centre SMAC Adventures on Mahé. Whether you're just learning or a seasoned climber, you're sure to find an exhilarating adrenaline rush.
Cycling:
Cycle out to a quiet wooded area for a romantic picnic, or take a tour around the footpaths and beach promenades to see how much the landscape changes across the islands. It's worth bearing in mind that while most hotels will hire out bicycles, the larger islands such as Mahé and Praslin may be too hilly for some riders.
Where to eat
Seychellois cuisine takes influences from the large number of different cultures present on the islands, resulting in a mix of Caribbean, Creole and colonial flavours. The result is a heavy focus on seafood, thanks to the abundance of fresh fish in the region, and a number of curries and coconut dishes.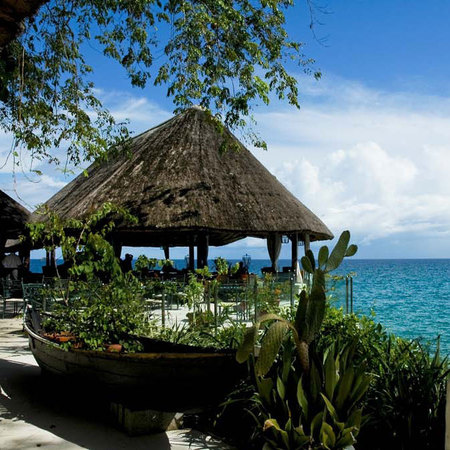 Grilled fish with ginger, garlic and chillies is a national favourite, and a deliciously warming end to the day, whether you enjoy it on the beach or in a restaurant. La Plaine St. Andre's Restaurant in Au Cap, Mahé is a traditional Creole restaurant set in an old plantation factory - ideal for long lunches and mid-afternoon cocktails!
Lounge 8, Glacis in Mahé is the ultimate romantic restaurant with a large outdoor terrace and a menu of Indian and Asian fusion food. If you're a seafood fan, you need to stop at PK's @ Pasquiere in Anse Boudin, Praslin, which has a deck overlooking the ocean.
Take a look at The Ultimate Guide to exotic beach weddings in the Seychelles here
.
For more information and to download the Seychelles Wedding Guide created by Kempinski Seychelles Resort,
click here
.
What do you think?
Leave a comment below to
be in with a chance of winning a £100 goodie bag
.
THE ULTIMATE WEDDING PLANNER GUIDE
ROBBIE WILLIAMS USES WEDDING FOOTAGE IN VIDEO
DETAILS OF JENNIFER ANISTON'S WEDDING