Rihanna
has opened up about her relationship with Chris Brown in an exclusive interview with ELLE UK.
Gracing the cover of the fashion title's April issue, Rihanna sat down with veteran rock journalist Mark Ellen to answer the question everyone wants to know, sharing the truth on why she went back to her ex-partner.
"Stay [new single] is a story about having love that close and wanting it to last forever. You don't have that feeling with everybody so when you have it you don't want to let go of it. I would definitely say that he [Chris Brown] is the one I have that kind of relationship with," told Rihanna.
Adding the importance of having a great friendship with Chris Brown, she said, "...right now that's just what we want, a great friendship that's unbreakable. Now that we're adults we can do this right.
"We got a fresh start and I'm thankful for that."
The We Found Love singer also talked about her love of Instagram, explaining, "Well I instagram everything about my life, whether it's smoking pot, in a strip club, reading a Bible verse - how crazy, I know! - or hanging out with my best friend, who happens to be Chris".
But when it comes to her penchant for posting naked pictures online, Rihanna said her mum wasn't best pleased, "I'm not afraid of any person in this world but her. I'm terrified of her! She called me two days ago and reeled me in about two naked pictures Melissa [her best friend] put up on Instagram - a sneak-peek from a photo book she's making about me.
"My mum, she went crazy on me. I was like embarrassed. I felt like I got my ass whupped in front of my class in school! She said, 'This was like a private moment and you're just parading this around." She humbled the f*** out of me."
Mum always knows best, RiRi!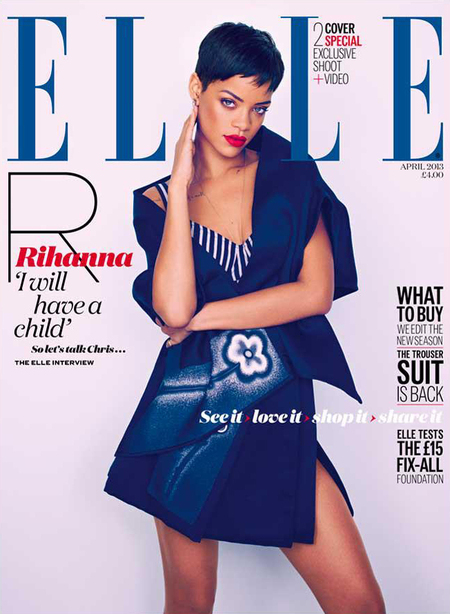 See the full feature in the April issue of ELLE UK - on sale 6th March 2013. 
Rihanna's behind the scenes video is also available to watch on
ELLEUK.com
.
What do you think? Leave a comment below to
be in with a chance of winning a £100 goodie bag
FASHION FIGHT: RIHANNA V JANUARY JONES IN LOUIS VUITTON
E. L. JAMES WANTS IAN SOMERHOLDER IN FIFTY SHADES OF GREY?
GEORGE LAMB AND OLIVER PROUDLOCK BECOME DIET COKE HUNKS