It's no secret that women find men with a healthy relationship with thier mother attractive. We've seen the likes of
Ryan Gosling
take his mum to the premiere of his latest film; Simon Pegg escorting his mum to the BAFTAs and Bradley Cooper agreeing to take his mother to the Oscars.
Even The Guilt Trip starring Seth Rogen and Barbra Streisand studies this relationship between a man and his mother, and the highs and lows of spending extended time with someone who, although you love them dearly, can drive you absolutely mental! In a loving way.
As Mother's Day is approaching and mums are so in right now, we thought we would create a list of the top mother and son relationships and what we can learn from them to improve our own bond with our mums.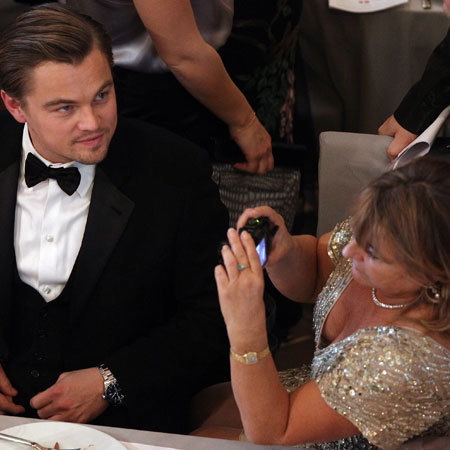 Leonardo DiCaprio and his mother, Irmelin DiCaprio
Leonardo is the only child of Irmelin DiCaprio, a former legal secretary born in Germany. His parents met whilst attending college and moved to Los Angeles. Leo got his name because he gave her a whalloping kick from inside the womb whilst she was looking at a Leonardo Da Vinci painting – open lines of communication before he was even born! Now his mother still plays a big role in his life and you can often see pictures of them in the papers meeting for lunch or attending functions together.
What we can learn from these two:
Communication is key to a healthy mother son relationship.
Bradley Cooper and his mother, Gloria Cooper
Gloria made a deal with Bradley back before he was famous that he had to take her to awards ceremonies. What a smart woman! He agreed, not knowing then quite the recognition he would receive for his work. Gloria and Bradley remain incredibly close to the point where Bradley currently lives with his mother. Not bad for a guy that was recently voted sexiest man alive – clearly he is rocking the mum relationship.
What we can learn from these two:
Think long term when making any deals!
Ryan Gosling and his mother, Donna Gosling
Ryan Gosling is the man of many a woman's dreams, and the close relationship he has with his mother does nothing to dispel this. In fact, Ryan has admitted in the past that being so close to his mum has made him far more in touch with his feminine side. Donna is also incredibly close to her son and even his girlfriend, Eva Mendes, admitting at the premiere that she was actually sporting one of Mendes' coats! Talk about understanding daughter in laws!
What we can learn from these two:
Make sure your girlfriend wears the same size as your mum!
Justin Timberlake and his mother, Lynn Harless
A fellow mouseketeer with Mr. Gosling, Justin Timberlake's mum Lynn actually looked after Ryan for a while whilst the two boys were in the Mickey Mouse Club together. And that's not the end of her generous nature; rumour has it that the lovely Lynn was also the one to come up with the name *NSYNC, a name that help shoot her son to fame. Justin is quite literally best friends with his mother, and Lynn acts as his manager, helping him make some of the most important decisions in his life. To repay her, Justin bought Lynn her own golf course. Well, why not?
What we can learn from these two:
Listen to your mother's advice; you never know where it may lead you.
Make sure you catch The Guilt Trip in cinemas from 8th March. You never know what you might learn! And don't forget your Mother's Day card this Sunday!
MOTHER'S DAY GIFT GUIDE: PAMPERING BATH & BODY SETS
CHECK OUT OUT FABULOUS MOTHER'S DAY RECIPES
FOODIE GIFTS, COOKBOOKS & GADGETS FOR MOTHER'S DAY