Little Mix
's Leigh-Anne Pinnock has shown off her new back tattoo with fans.
Designed by her close friend, the tattoo is a musical score with four butterflies and stretches across her right shoulder.
The singer tweeted, "Inked again mixers.. Designed by my beautiful bestie @hannahlisab :) thanks chick i love it! :) x leigh."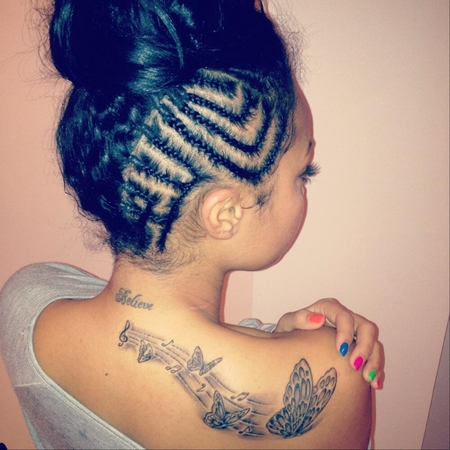 Does anyone else love her nail varnish?
The singer already has the word "Believe" etched at the base of her neck.
Thankfully she hasn't gone for the more dramatic tattoo like
Harry Styles' butterfly
and
Cheryl Cole's rosy back!
The new inking comes after the band all went for a
hair makeover
a few weeks ago.
What do you think of Leigh-Anne's tatt?
JADA PINKETT-SMITH DEPENDS YOUNG STARS FROM THE MEDIA
TAYLOR SWIFT DISSES HARRY STYLES IN 22 VIDEO?
WATCH: KICK-ASS 2 TRAILER REVEALED