Turn that frown upside down today and send out some proper feel-good vibes.
Not feeling it? Here are ten ways to share the love today and every day...
10 ways to get happy
1. Mind your Ps and Qs
Make an effort to say thank you for all those daily tasks that go unnoticed and start a chain reaction. Someone letting you off the tube, making your morning coffee, dropping off your post - it's the little things.
2. Pick up the phone
Who have you been meaning to call? Your Nan, that friend who is going through a tough time – don't put it off, brighten up their day and yours.
3. Celebrate your heroes
Publicly announce the heroes in your life on
Twitter
with the hashtag #handbagheros
4. Write a mega list
It's all too easy to focus on the negative. Write a list of ten things you are grateful for and make special mention of what's good in your life.
5. Think it, feel it
You can actualise a feeling of positivity by thinking positive thoughts. Your general mood will follow deliberate actions. So bring yourself out of that grump by thinking happy things! Singing along to this is bound to help...
6. Take a proper look in the mirror
Sure your abs could be flatter, but instead of only looking at the bad bits on your body – take a proper look at yourself. You're pretty darn fine aren't you? Hot stuff. Make a mental note of all the bits you like and vow to stop slagging off your bad bits.
7. Treat yourself to some me time
You work hard, you deserve a treat. Do that one silly little thing that makes you happy. We're not talking something that will make a dent in your bank balance – maybe it's taking a full guilt free lunch hour, or turning up the best of
Beyoncé loud and practicing your moves
. Do it.
8. Spread the love
Do something good for your fellow man. Donate a tenner to that charity you support or
clear out your wardrobe
and give your local charity shop a boost.
9. Take care of number one
It's time to start looking after you. A happy body means a happy mind.
Eat well today,
fit in a spot of mood-boosting exercise,
drink plenty of water
and go to bed at a reasonable hour. You know, all those things we're supposed to do but don't.
10. The last resort
Look at this picture of
Ryan Gosling
with his top off. Happiness established.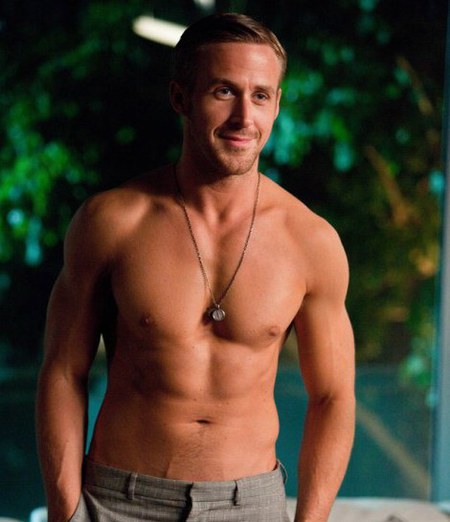 What will make you happy today? Tweet us
@handbagcom
AND THE HAPPIEST COUPLES ARE...
SCIENTISTS DISCOVER THE SECRET TO A LONG LIFE
MORE LIFE ADVICE