Your wedding is the biggest party you'll ever throw so why not do in it a Victorian Grand Dame that's feels like a home from home.
Downton Abbey fans are in for a treat now the newly renovated Huntsham Court is open for bookings.
What is Huntsham Court?
The stunning Baronial mansion can be found in the rolling Devonshire countryside close to the Somerset border and Exmoor National Park.
Hunstsham was constructed in 1869 and was actually made as a wedding gift!
While large Country houses have reputation of being a bit cold, Huntsham Court has been restored to be a home for its owners Damian Llambias and Christopher Badham.
But with careers in London, the pair have chosen to share their lovely home with parties wanting to hold a memorable occasional in a glamorous setting.
Licensed for wedding ceremonies, this elegant building is totally Downton-esque when it comes to the glamour factor.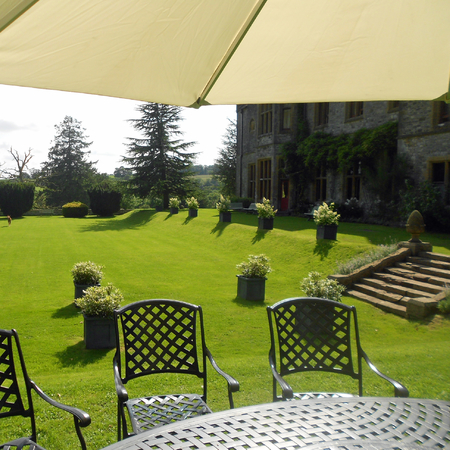 From the amazing library and the Victorian Bar to the exquisite banquet hall, Huntsham will help you have a dream wedding.
Why should you have your wedding there?
The house is a massive 33,000 sq ft and sleeps up to 72 guests in 30 unique bedrooms named after family, friends and pets.
Most rooms are en-suite and some are interconnecting family rooms but they all boast four-poster beds and are as spacious as they are full of character. Some of the bigger rooms would be perfect for a group of bridesmaids to stay in.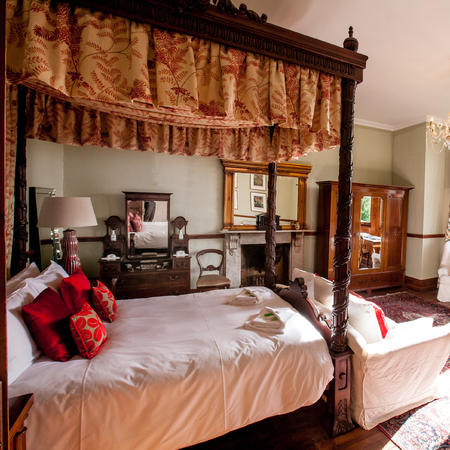 Each room has a different design so you can pick to suit each member of your party.
Weddings are all about getting the family together, so why not have everyone in the same place, free to let loose as much as they want because they only have to walk up the stairs to get to their bed at the end of the night.
The house is licensed to carry out civil ceremonies and there is also a lovely church on the driveway in the Huntsham estate.
What are your planning options?
Unlike some other venues, Damian and Chris were adamant that Huntsham can be flexible to your needs and preferences.
They do not have any packages or fixed catering but instead suggest a trusted network of suppliers and caterers that are the best value for your needs.
At the same time you are completely free to bring in your own preferred team then you can do so without any hidden charges.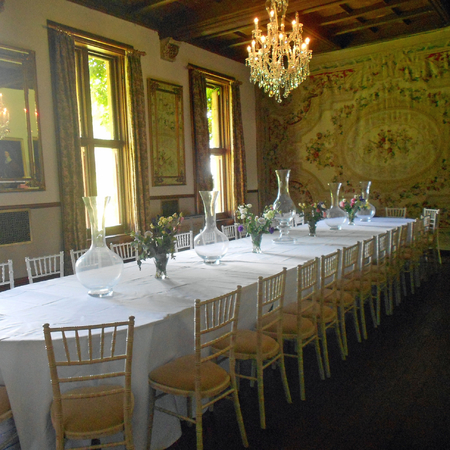 They offer complimentary use of the banqueting set and you are even free to bring your own alcohol if you'd like!
We definitely recommend having a nibble of the Godminster Cheese board in front of the fire in the Great Hall.
There's nothing more beautiful than a decadent wedding held in a grand old mansion!
Leisure activities
There plenty to do outside of the grand home like
Clay Pigeon shooting
, getting pampered or going on a lovely walk in the countryside.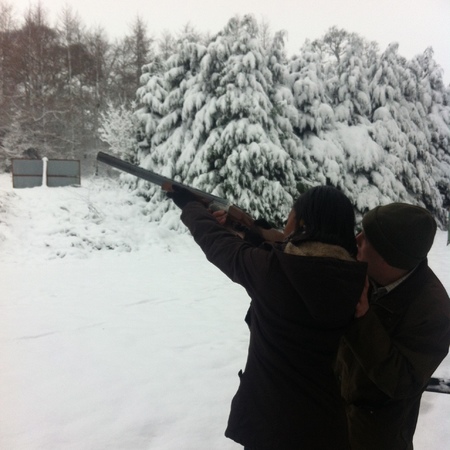 We were pleasantly surprised at just how easy it is to get the knack of clay pigeon shooting.
If you've ever had a go on the Wii then you'll be a natural!
There's lots of activities for all the family such archery, fencing or even hire out a bouncy castle.
There is limited mobile phone reception at Huntsham which is actually a great way of making everyone get together and get involved in the activities.
Plus it makes sure your guests don't let themselves get distracted by anything on your big day.
The Facts
We had a fun 2 hour journey from London to Tiverton from London Paddington so it's easy enough for everyone to reach.
An advance single with
First Great Western
starts from £12.50 for standard class but if you want to upgrade to first for around an extra £20 then you can treat yourself to some tea and cakes in their lounge at Paddington and refreshments on the train.
Huntsham Court can be hired exclusively for weddings and parties.
Prices for a two night weekend stay start at £150 per person (based on £9,900 for 66 people)
Prices for a two night midweek stay start at £120 per person (based on £7,900 for 66 people)
To find out more visit
Huntshamcourt.co.uk/weddings
What do you think?
DAVID AND VICTORIA BECKHAM TO RENEW THEIR WEDDING VOWS
TAKE A RELAXING CITY BREAK TO LUXEMBURG
HOW TO HAVE A £200 WEDDING