Katy Perry
has joined forces with UNICEF and given us a brand new reason to love her.
She recently visited Madagascar to raise awareness of the conditions that children are living in. Madagascar is one of the poorest countries in the world and Katy saw lots while she was there.
"In less than one week here I went from crowded city slums to the most remote villages and my eyes were widely opened by the incredible need for a healthy life – nutrition, sanitation, and protection against rape and abuse - which UNICEF are stepping in to help provide," she said.
"I am grateful to UNICEF for giving me the opportunity to see first-hand how their programmes make a real difference in children's lives. Support for UNICEF is saving children, I am a witness to it."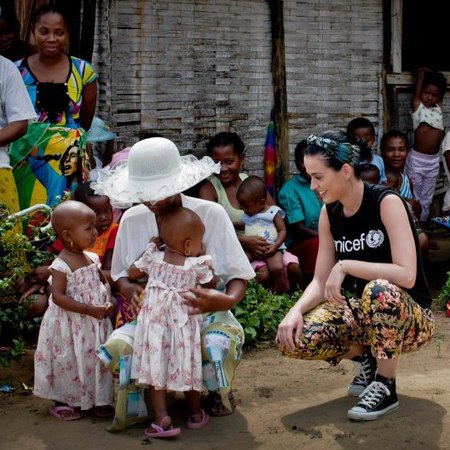 We love that Katy's found the time to do charity work. She's been
busy working on new music
in the studio with the 'Teenage Dream' producer and her personal life hasn't been problem free. John Mayer
recently spoke to Ellen
about breaking up with Katy.
You can see more photos in the
album on Katy's Facebook page
or
find out more about UNICEF's work
.
JOHN MAYER OPENS UP ABOUT KATY PERRY BREAK UP
KATY'S BACK IN THE STUDIO WITH 'TEENAGE DREAM' PRODUCER
KATY IS PRETTY IN PRINT AT KIDS' CHOICE AWARDS