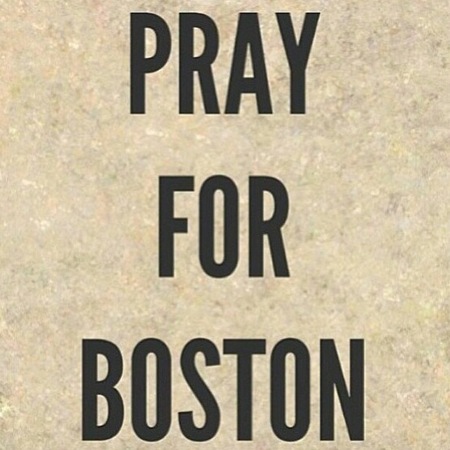 Fear and tragedy filled America yesterday when bombs exploded at the finish line of the annual Boston Marathon. It's reported that three people have been killed, including an 8-year-old boy and 140 people injured as a result of the attack.
President
Barack Obama
vows to hunt those responsible for the attack: "We will find out who did this. We'll find out why they did this."
He continues: "Any responsible individuals, any responsible groups, will feel the full weight of justice."
With shock of the tragic news, celebrities shared their love and prays to Boston with comments on Twitter...
Just seen the news, my thoughts are with the people of Boston x vb

— Victoria Beckham (@victoriabeckham) April 15, 2013
Just watching this on the news. Saying a prayer for those who have passed and those who are hurt and… instagram.com/p/YJCaFpQ0co/

— JESSIE J(@JessieJ) April 15, 2013
Saddened and sending all my love to those suffering right now #Pray4Boston

— Kelly Brook (@IAMKELLYBROOK) April 15, 2013
Just heard about the tragedy at the #BostonMarathon ....so sad! #PrayForBoston

— Tom Daley (@TomDaley1994) April 15, 2013
My heart is breaking for everyone effected or injured in the explosion at the Boston Marathon. God bless you all! My prayers are with you!

— Kim Kardashian (@KimKardashian) April 15, 2013
#prayforboston thoughts are with you...

— Holly Willoughby (@hollywills) April 15, 2013
<3 #prayers to all the families affected.. instagram.com/p/YJT5yVRs5A/

— Rita Ora (@RitaOra) April 16, 2013
shockingly awful awful news about marathon in boston

— Katie Price/Jordan (@MissKatiePrice) April 15, 2013
Deeply sad, innocent people targeted again #PrayingforBostonyoutu.be/046MuD1pYJg

— Lydia Bright (@LydiaRoseBright) April 15, 2013
We're #PrayingforBoston and our thoughts go to everyone there.
EXCLUSIVE: BRITTANY SNOW TALKS SINGING AND NAKED SHOWERS IN PITCH PERFECT
BRIDAL BEAUTY TIP: GET A BRONZED RED CARPET GLOW ON YOUR WEDDING DAY
AMERICAN APPAREL'S 'SEXUAL & OBJECTIFYING' ADVERTS BANNED AGAIN