Angelina Jolie
has revealed today she underwent an elective double mastectomy after discovering she carried the BRCA1 cancer gene that meant a 87% chance of getting breast cancer.
The actress has shared her story in the
New York Times
, explaining that she made the decision to undergo the procedure back in February after learning she was a carrier of the gene.
Jolie, 37, underwent three months of treatment prior to undergoing a gruelling eight hour operation to remove her breasts in February. Then it was back to work as normal, appearing at both the Women in the World Summit and G8 Summit before having breast reconstruction in April.
The actress explained, 'My doctors estimated that I had an 87% risk of breast cancer and a 50% risk of ovarian cancer, although the risk is different in the case of each woman.
'Once I knew that this was my reality, I decided to be proactive and to minimize the risk as much I could. I made a decision to have a preventive double mastectomy.'
Jolie's mother Marcheline Bertrand died of ovarian cancer at the age of 56, which the actress also has a 50% chance of contracting. However Jolie revealed she decided to start 'with the breasts, as my risk of breast cancer is higher than my risk of ovarian cancer, and the surgery is more complex.'
After having the operation, her chances of developing breast cancer have dropped to below 5%.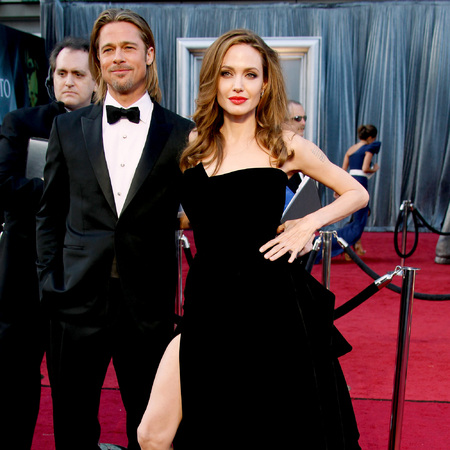 The actress praised Brad Pitt and her children for their support through her ordeal, writing, 'I am fortunate to have a partner, Brad Pitt, who is so loving and supportive,' she said. 'So to anyone who has a wife or girlfriend going through this, know that you are a very important part of the transition. Brad was at the Pink Lotus Breast Centre, where I was treated, for every minute of the surgeries.
'We managed to find moments to laugh together. We knew this was the right thing to do for our family and that it would bring us closer. And it has.'
She added that her children are not phased by the episode, 'It is reassuring that they see nothing that makes them uncomfortable. They can see my small scars and that's it. Everything else is just Mommy, the same as she always was.'
The actress decided to share her story in an effort to help other women who may be going through the same thing.
'I wanted to write this to tell other women that the decision to have a mastectomy was not easy, but it is one I am very happy that I made.
'On a personal note, I do not feel any less of a woman. I feel empowered that I made a strong choice that in no way diminishes my femininity,' she said.
'For any woman reading this, I hope it helps you to know you have options. I want to encourage every woman, especially if you have a family history of breast or ovarian cancer, to seek out the information and medical experts who can help you through this as of your life, and to make your own informed choices.
Jolie concluded, 'Life comes with many challenges. The ones that should not scare us are the ones we can take on and take control of. '
If you are concerned about BRCA1 and want to find out more about testing, visit cancerresearchuk.org
BRITS 'STIFF UPPER LIP' STOPS CANCER DIAGNOSIS
SHARON AND KELLY OSBOURNE FRONT FASHION TARGETS BREAST CANCER
ARE WOMEN IGNORING CERVICAL CANCER SYMPTOMS?