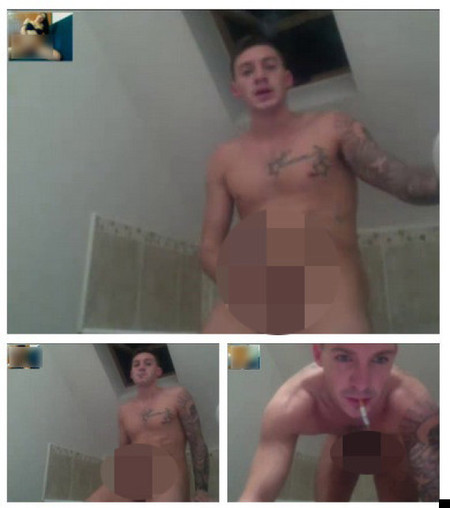 Kirk Norcross
has issued a public apology after naked photos of him, eerrrr,
enjoying
a sexy Skype chat with an unknown woman were leaked online.
The TOWIE star can be seen 'performing' in the snaps, which also appear to show a brunette in black underwear joining in.
Kirk's spokesman has said the person responsible for leaking the pictures is "malicious and socially irresponsible."
The 25-year-old bar owner took to Twitter to apologise to his fans about the embarrassing incident. He posted...
Fuuuuuuck!!!! People these days!!!! Cooooome oooonnn guys we have all done it I'm just the stupid one that got caught! Sorry guys :-(

— Kirk Norcross (@kirk_official) May 9, 2013
Despite confessing to sleeping with more than
1,000 women
in his new book, Kirk has vehemently denied that fetish model Cami Li is the girl on the receiving end of his sexy Skype chat. She has also taken to Twitter to deny the claims.
Just want to let everyone know that is was not @camilimodel that took the pictures! It was last year sometime! I'm so sorry guys!

— Kirk Norcross (@kirk_official) May 10, 2013
Kirk's spokesman told the MailOnline, "The attempted actions of a certain individual to publicly embarrass and humiliate Kirk with the release of grossly intimate and personal images is nothing but malicious and socially irresponsible.
Kirk is mortified and hugely disappointed that a private moment from the past has been shared in such an irresponsible manner and would like to apologise for any offence they have caused."
Uh Oh!
A short time later Kirk Tweeted his thoughts about the whole event...
TRUST NO ONE!!!!

— Kirk Norcross (@kirk_official) May 10, 2013
What do you think?
RIHANNA CONFIRMS CHRIS BROWN SPLIT?
WATCH LANA DEL REY'S VIDEO FOR YOUNG AND BEAUTIFUL
IS CAROLINE FLACK ENGAGED?
WATCH: GRAVITY TRAILER PREMIERES ONLINE