Celebs have hit back at mean tweeters in a video by reading out the worst tweets people have written about them.
Jessica Alba, Russell Brand, No Doubt, Jessica Simpson and Kid Rock were among the famous faces who read out horrible tweets about themselves in a segment for Jimmy Kimmel Live.
Some look sad (like Jessica Simpson reacting to a pregnancy weight gain jibe) and some just get angry.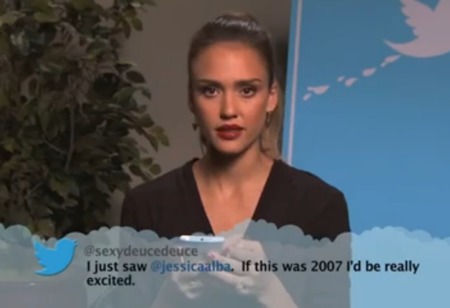 Mad Men star
Elisabeth Moss
kind of sums it all up as she flips her middle finger at the guy who tweeted 'I can't figure out if Elisabeth Moss is attractive or not', saying 'Does this help you figure it out?'
Ohhh faced.
So remember kiddies – it's easy to hide behind Twitter – but celebrities have feelings too. Well, we're stil undecided about Kid Rock.
Watch the video…
HACKER LEAKS SATC AUTHOR CANDACE BUSHNELL'S NEW NOVEL
FASHION FIGHT! KIM KARDASHIAN V ROBIN WILLIAMS IN FLORALS
BRITNEY SPEARS ADMITS "DIETING IS TOUGH"