Actresses generally like to talk about how they stay in shape and what they had for dinner - but
Zoe Saldana
has gone one step further and revealed how much she weighs on the cover of
Allure
magazine.
Saldana, 34, shows off her toned figure in a naked photo shoot for the mag, but it is the cover line that has sparked controversy - reading, 'Zoe Saldana: 115 Pounds of Grit And Heartache.'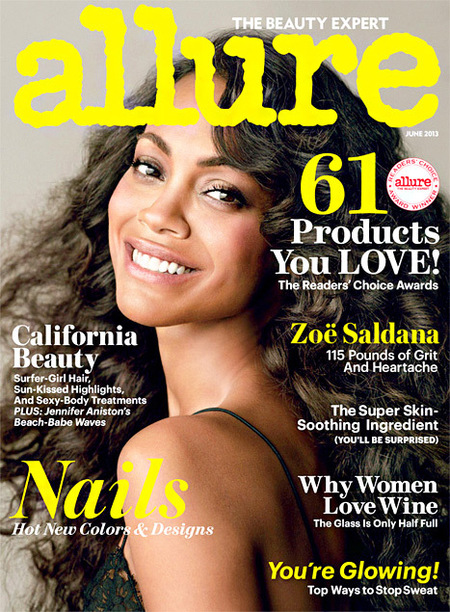 The reveal has prompted a negative response, with the idea of glorifying a low weight (8.2 stone) in such a prominent place being an irresponsible move on the magazine's part.
Hilary Levey Friedman, a Harvard sociologist spoke to
omg!
saying that the headline implies, 'you need to be thin and strong. Just one isn't enough anymore. This only puts more demands on women and can lead to varied types of disordered eating.'
Friedman continues that this type of number crunching is old fashioned, adding 'It used to be common to share numbers like weight and measurements [but] more mainstream pop culture has shied away from it. Even the Miss America Pageant stopped listing the weights and measurements of its competitors by the 1990s.'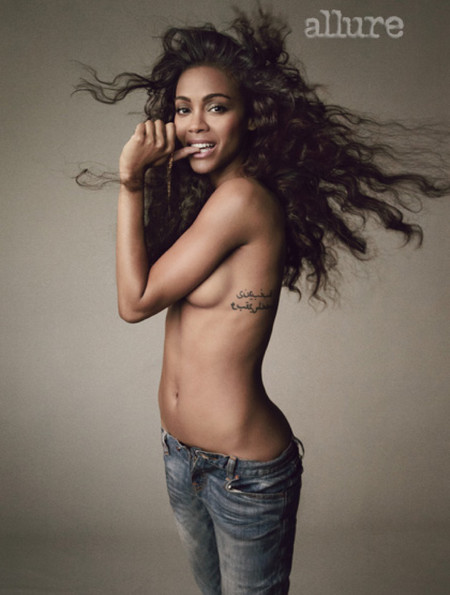 The mag comes out at the same time as Saldana's
Star Trek Into Darkness
co-star Alice Eve confessed she ate nothing but spinach for five months to get in shape for the film, released this week.
Previously Saldana has spoken out about her love of Pilates and confessed to
O, The Oprah Magazine
that she indulges in the odd Chinese takeaway, and has never been a poster girl for crash diets. However, is it irresponsible to focus on weight like this?
Vote now...
Should Allure have printed Zoe Saldana's weight?
Yes, I think people are getting worked up over nothing
89.06%
No, it is irresponsible
10.94%
RIHANNA WIN'S VICTORIA'S SECRET SEXIEST BIKINI BODY AWARD
REVIEW: STAR TREK: INTO DARKNESS
EXCLUSIVE: ZOE SALDANA & KARL URBAN STAR TREK INTERVIEW