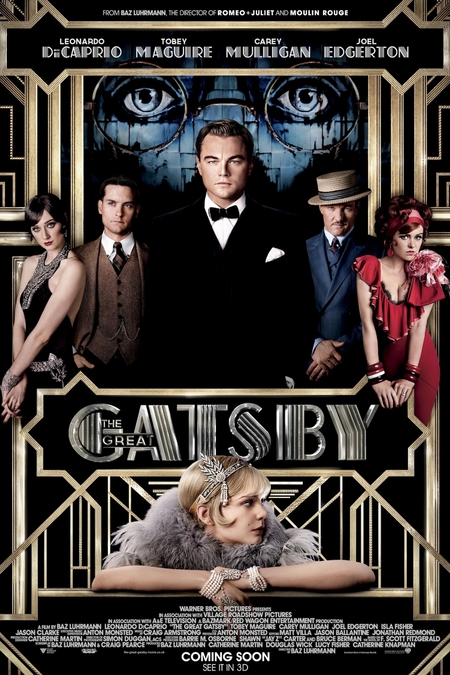 What's the film about?
Based on the famous F. Scott Fitzgerald novel, the film follows would-be writer Nick Carraway as he leaves the Midwest and comes to New York City in the spring of 1922.
He finds himself spending a crazy summer with his cousin Daisy and the infamous Jay Gatsby.
Who's in it?
Leonardo DiCaprio
, Carey Mulligan, Isla Fisher, Toby Maguire, Joel Edgerton and Elizabeth Debicki
Handbag hearts:
We've learnt what to expect from the director of
Romeo + Juliet
and
Moulin Rouge
and luckily Baz Luhrmann does not disappoint.
This is an adaptation that is completely true to the book, yet also completely modernized in a way only Baz could accomplish.
If you have read the book then it's likely you'll love the film's scene selection. We were impressed by the use of aspects from the first draft of the book, as well as F. Scott Fitzgerald's own life to make this film truly new.
But let's talk about the performances. They were awesome!
Pun fully intended, Leonardo Dicaprio truly is a
great
Gatsby, and Carey Mulligan couldn't have portrayed the complexity of Daisy any better if she tried.
Isla Fisher does a great job as Myrtle, Tobey Maguire was awesome, Joel Edgerton was amazing. We know we're harping on but it's hard not to!
Elizabeth Debicki is our ultimate winner however, with her PERFECT Jordan Baker! Every actor and actress in this film is brilliant and we really hope you agree.
They even managed to make the film funnier than any adaptation we've seen before, with Jay and Daisy finally seeing each other being actually hilar!
The use of 3D is impressive, so we highly recommend you watch it as it's meant to be seen, because Baz really did do a great job. It almost makes us wonder what
Moulin Rouge
could have been like in 3D!
Complaints:
Okay, at 143 minutes this film is just a tad too long.
But anyone who has read the book should realise that to follow the narrative so completely, a long film was necessary to ensure we were all left with that sad yet hopeful feeling that the book creates.
Standout moment:
The party scenes at Gatsby's house are so epic we wanted to reach out and jump into the screen.
Baz was obviously having too much fun filming them to cut them short, but we can't really blame him for that.
Verdict:
A beautiful re-visioning of a classic tale that'll make you want to join the party!
4 stars
P.S.
The soundtrack is awesome
- a bit of Jay Z, Lana Del Rey and Emeli Sande always go down a treat.
The Great Gatsby
is in cinemas from 16 May 2013.
LOOK - THE GREAT GASTBY IN PICTURES
LISTEN - THE GREAT GATSBY SOUNDTRACK
FILM YOU NEED TO WATCH: FAST AND FURIOUS 6