Professor Green
is - understandably - less than thrilled about having been sandwiched between two cars. He was making jokes but admitted he was worried his leg might be broken.
Mr Mille Mackintosh tweeted that "traffic is making this evening VERY difficult" just before 6.30pm, presumably not aware that he'd be tweeting a photo having been hit by a car just half an hour later.
He continued to tweet throughout the ordeal and included a few photos.
"Off to the hospital we go. I'm making jokes but I'm in all sorts of discomfort... Probable broken leg, great," read a tweet accompanied by a photo from inside the ambulance complete with paramedics.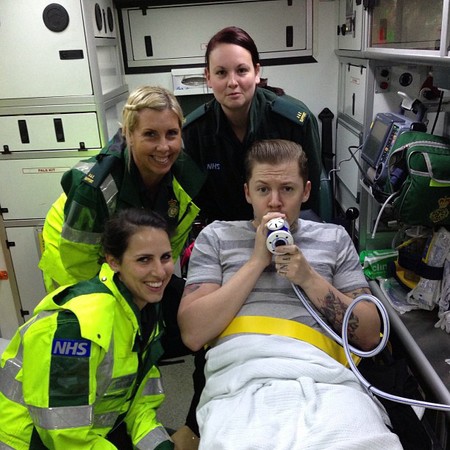 It seems the gravity of the situation hit him a bit later as the Twitter feed became pretty melancholy. Not that we're surprised, mind. We'd be upset too and all that gas and air he was huffing probably wore off.
"Won't know until tomorrow if its surgery or not, so f**king depressed. No jokes left in me this could hinder and ruin so so much. If I'd have fallen when the car hit me I'd be dead... would have been my head in between the cars."
The last photo he shared was taken in his hospital bed and showed off a gift his family had bought him.
We wonder if he'll start using it at home
once he's married Millie
? We reckon she owes him
after sending a cheeky Burger King snap
to Professor Green's personal trainer.
Get well soon!
MILLIE QUITS 'MADE IN CHELSEA' TO BE WITH PROFESSOR GREEN
MILLE SHOWS OFF PRE-WEDDING WORKOUT
MILLIE AND PROFESSOR GREEN POSTPONE THEIR HONEYMOON?