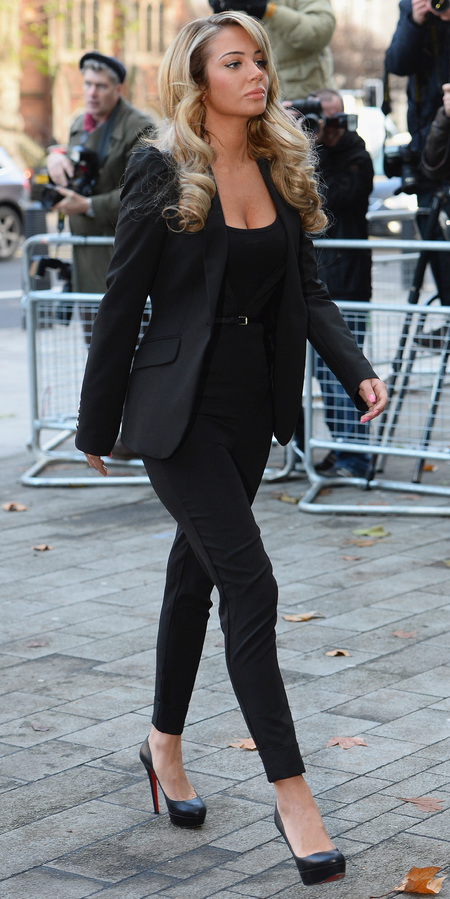 Tulisa Contostavlos
appeared in Westminster Magistrates Court today, pleading 'not guilty' after being charged with the supply of Class A drugs.
The former
X Factor judge
, 25, was arrested back in June after she was allegedly involved in arranging a cocaine deal worth more than £800, in a suite at the London's Dorchester Hotel.
The singer denies the charges and her lawyer Ben Rose says she will continue to plead 'not guilty' to the charges.
Whilst speaking to
The Sun's
undercover reporter, the singer supposedly boasted about half of her phone contacts selling drugs and nicknamed
illegal drugs
as "sweets".
However, her lawyer says the entire case has been 'manufactured' by the newspapers, and that the police can not 'rely' on the work of investigative journalists.
"This case is not simply about
drug supply
. It is about the limits which we set on the conduct of journalists," Rose said in a statement.
"The media have rightly been criticised in recent years for the gross invasion into the private life of others. Tulisa is the latest in a long line of people who have been treated as fodder by greedy newspapers. This was a deliberate attempt to target a young woman who is all the more vulnerable because of her celebrity status," the statement continues.
Tulisa will next appear before Southwark Crown Court on 9 January 2014.
CELEBRITIES CAUGHT IN DRUGS SCANDALS...
FORGET THE COCAINE, IT'S ALL ABOUT NIGELLA'S BAG
MARIJUANA IS COMING TO A COUNTRY NEAR YOU?
MORE LIFE NEWS