Following the Wall Street Crash of 1929, a huge amount of investment was pumped into the Hollywood movie machine to keep spirits high among hard hit ordinary people. Iconic stars like Garbo, Hayworth and Dietrich were born and inspired a whole generation of glamorous brides.
This was the era of the 'wedding boutique' and shops started popping up in major towns giving brides a chance to indulge. Even department store owners were starting their first wedding gift list services.
We've delved into the pages of
Style Me Vintage: Weddings
to find out how modern brides can recreate the oh so glamorous 1930s bridal style...
1. The Bridal Trousseau
This is just a fancy way to saying the bridal outfit, but in the 1930s the 'trousseau' encompassed more than just a dress. Brides often had a going away outfit, an evening gown, hats, gloves, jewellery and furs.
2. The figure
The 30s style is suited to a tall slim frame, but it's actually a great way to flatter a naturally curvy body too. The look is very feminine with silky draping fabric, floor sweeping material and long sleeves. Large hooped underskirts, fur wraps and close fitting cloche headpieces were also all the range during the era.
3. Experimental colours
During the Depression lots of brides didn't have the money to afford a brand new gown so they wore their Sunday best instead. This meant white, cream, pale pinks and pale blue were popular wedding dress colours. Even Wallis Simpson wore a blue gown when she married the Duke of Windsor in 1937.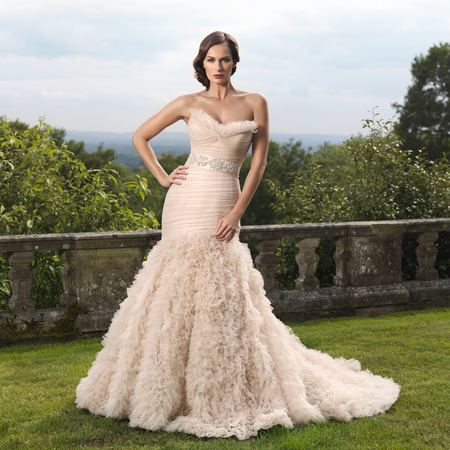 4. Nipped in waist
Dresses were moulded to the body in soft silky fabrics and diamond panels were used to give the illusion of a smaller waist. By the end of the decade films like
Gone With The Wind
inspired huge gowns with hooped underskirts. Original 1930s gowns are still available from specialist supplies, but you're more likely to find the long-sleeved button down versions or ones with capped sleeves and looped 'rouleau' buttons.
5. The veil
The cathedral-length wedding veil was still a key piece of the bridal ensemble. Try specialist designers like Ann Guise (www.silkveils.com) for 1930s-inspired designs. Tiaras also became a popular way to fix veils in place, while cloche hats from the 20s were still going strong. Turbans with gilded brooches in the centre were also popular for on-trend brides.
6. Amazing accessories
A sparkling clutch bag was the ultimate bridal accessory of the 1930s, while rhinestones were regularly used to add a bit of extra sparkle. In 2013, we recommend you go light on the rhinestones or risk evoking the Dolly Parton look! Stick to gorgeous sparkly jewellery and accessories instead.
7. The make-up
The 1930s saw the emergence of the beauty industry, with brands like Max Factor and Elizabeth Arden developing into multi million pound companies. Matching lip and fingernails were crucial, as were powder, false eye lashes, brow pencils and eye shadow. For hair, the Marcel Wave was the go-to for most 1930s brides. It's similar to the 1920s finger-wave, but looser and with slightly more body. It's a tricky style to do, so go to an experienced professional or practise with pictures of Marlene Dietrich for inspiration.
8. White wedding
Flower bouquets in the 1930s were mostly white, but fresh flowers were often considered too expensive, so brides stuck to cascades of ribbons and wild-flowers instead. Stems wrapped in silk and studded with rhinestones or beads were popular choices for the more well-to-do bride, while long stem Calla lilies made an ideal bloom to be carried across one arm (a bit like carrying a baby).
9. Art Deco
The Art Deco movement was still strong in the 1930s and the typical graphic motif was incorporated into cakes, stationary and dress beading. Create the 'boudoir bride' effect with mirrors, old furniture and vintage accessories, like pearls draped over an old leather suitcase for cards and gifts. Pick up vintage perfume bottles from charity shops for your centre pieces or pull the drawers out of an old chest and have silk bloomers spilling out!
10. Music
Use old gramophones and record players to get people in the spirit, but play the likes on Bing Crosby, Duke Ellington, Glen Miller, Billie Holiday and Ella Fitzgerald on a reliable iPod instead.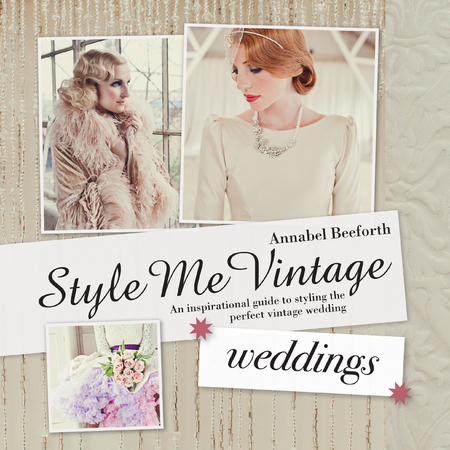 For loads more advice snap up a copy of
Style Me Vintage: Weddings
by Annabel Beeforth, published by Pavilion, available on
amazon.co.uk
. Photography by Joanna Brown.
Will you be having a vintage wedding?
The ultimate 1950s Grease-inspired wedding
1940s themed simple and subtle wedding
CLAIRE PETTIBONE SPRING 2014 WEDDING DRESS COLLECTION
MIRANDA KERR SENDS JENNIFER ANISTON HER PANTS