Hollywood fitness guru,
Rainbeau Mars
, is encouraging her wedding guests to do a three-week vegan cleanse before her big day sparking critics to call her 'the world's worst bridezilla'.
She's famous for her yoga DVDs and flexible moves, but now Rainbeau is asking her guests (and anyone else who wants to celebrate her big day) to embark on a healthy eating regime so they can 'look and feel their best' at the ceremony.
Her three day wedding event on Kauai, Hawaii, will include 'unique activities' like breath work classes, yoga and horseback riding...so, no alcohol then?
The 21-day Fresh Start cleanse claims to strengthen your immune system, prevent disease, release stress and beautify your hair.
The Twittersphere has been quick to criticise the fitness guru, but her supporters believe guests should be thankful to be given the opportunity to try out a healthier lifestyle.
Okay then.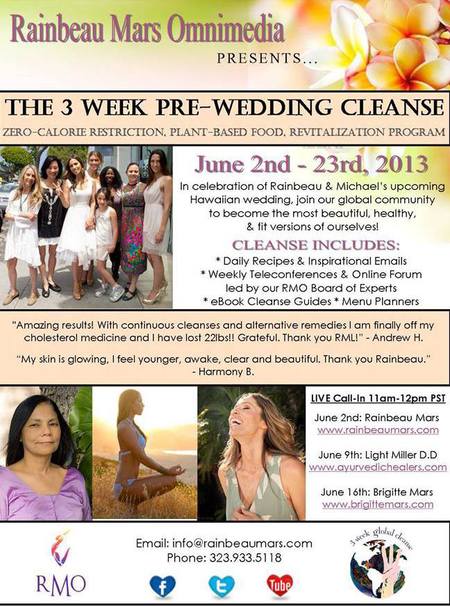 What do you think?
SAFEGUARD YOUR JEWELS FROM A KELLY CLARKSON STYLE MISHAP
HAVE A SILVER SCREEN INSPIRED 1930S WEDDING
HOW TO CHOOSE THE PERFECT WEDDING COLOUR SCHEME