What do you give the bride who has everything? Well, animal rights group PETA decided the best gift for Formula One heiress Tamara Ecclestone was a rescued goose.
The animal was rescued from a French foie gras farm that supplies Fortnum & Mason and has been donated to Tamara in recognition of her status as an
anti-foie gras ambassador
. She even managed to convince Formula One events to stop serving the 'fatty liver' delicacy.
The animal rights group is naming the goose – who now enjoys frolicking in the sun and idling on the pond of a French animal sanctuary – Tamara. We're sure she's chuffed about that. NOT.
Two male geese who were rescued at the same time as Tamara have been named Sir Roger – in honour of Sir Roger Moore, the narrator of PETA's video exposé of foie gras farms – and Prince Charles, in honour of the Prince of Wales, who refuses to serve foie gras at Royal events.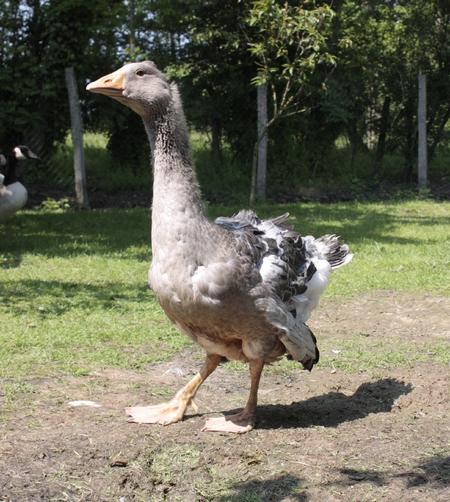 New bride Tamara (the real person not the goose) joins Twiggy, Ricky Gervais, Kate Winslet and Pamela Anderson who have all taken a stand against the sale of foie gras, which is illegal to produce in the UK.
Ducks and geese who are used in foie gras production have pipes shoved down their throats several times a day to force painfully large amounts of food into their stomachs, eventually causing their livers to swell to up to 10 times their normal size.
For more information, please visit
PETA.org.uk
.
So the goose is good, but it does it beat
these bizarre celebrity wedding presents?
TAMARA ECCLESTONE'S LAVISH £12M WEDDING IN NUMBERS
IS THE WORLD'S WORST BRIDEZILLA?
SAFEGUARD YOUR JEWELS FROM A KELLY CLARKSON STYLE MISHAP