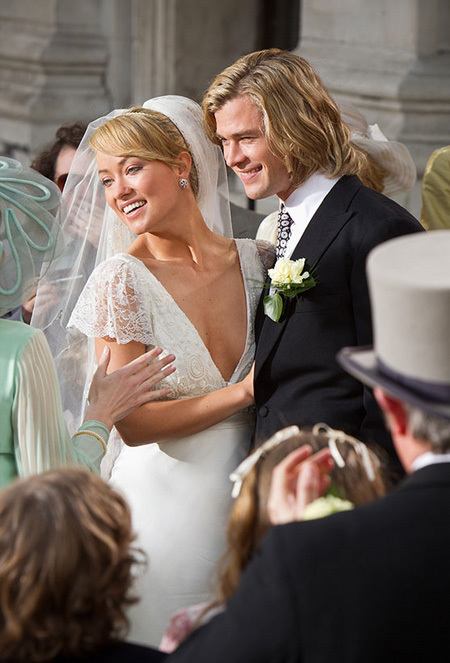 Olivia Wilde
has said 'I Do' to Chris Hemsworth in a romantic scene for their new movie,
Rush
.
Engaged Olivia and married Chris were busy doing their day jobs on set of the Formula One movie, that tells the true story of legendary racer, James Hunt.
The film is set in the 1970s, which explains the slightly dodgy hair cuts and questionable outfits, but it's Olivia's on-screen wedding dress that has Handbag HQ in a tizzy.
Half of us love the deep plunging neckline, while the rest of us think it's completely wrong for a wedding. We reckon the lace capped sleeves, elegant up-do and full veil on Olivia's costume make the whole look more demure, but wouldn't a real-life bride be worried about a wedding nip slip all day?!
Tell us what you think by voting in our wedding dress poll below...
Do you think a plunging gown is appropriate for a white wedding?
No, it looks cheap!
23.91%
It's sexy and sophisticated. I love it.
26.09%
Depends on the bride's individual figure
50.00%
What do you think?
THE MOST UNROMANTIC WEDDING RING EVER MADE?
TAMARA ECCLESTONE GIVEN GOOSE AS WEDDING GIFT
6 OF THE WORST FIRST DANCE WEDDING SONGS