Made In Chelsea
's
Lucy Watson
has dumped her boyfriend Spencer Matthews after the notorious ladies' man admitted to cheating on her while he was on holiday in Greece.
The news will be fully revealed at The End Of Season Party episode of the show as Spencer is seen confessing his douchey cheating ways.
Even though we should all know better, many of the cast members in the audience shake their heads in disbelief because we're guessing that like us they thought Spennie wouldn't dare cheat on poor Lucy.
Speaking to Rick, Spencer said, "I have tripped up yet again. I cheated on her, Rick, pretty recently. I was in Greece.
"I'm young and living some form of dream, but unfortunately hurting people in the process, which is certainly not what I want."
Spencer claims he's still in love with Lucy but he's now in a very difficult situtation beacuse Lucy has dumped him.
Quite rightly too.
He continued, "If anyone could have changed me, I still think it could have been her - could still be her. I don't know. I still love her, so I'm in a bit of a predicament at the moment."
And because it wouldn't be
Made In Chelsea
without awkward confrontations, Lucy then joins her cheating ex on the stage.
She said, "I can't even look at him.
"I found out because I got tweeted. Some nice people out there are looking out for me."
Spencer tried to play nice, "It's a horrible thing to do to someone who deserves it as little as Lucy."
Lucy snapped, "Who deserves it? What kind of person deserves it?
"He denied it for about 15 minutes on the phone.
"And then I got a bit upset and broke down and then he managed to admit it over text, which was very brave of him."
Turning to Spencer, Lucy added, "I find it hard to believe that you can love someone and do that to them. I would never do that to you."
We can at least be happy to know that Spencer didn't think cheating was worth it as he said, "No, of course it wasn't worth it," he said. "I'm miserable and I'm really upset with myself. As if it was worth it!"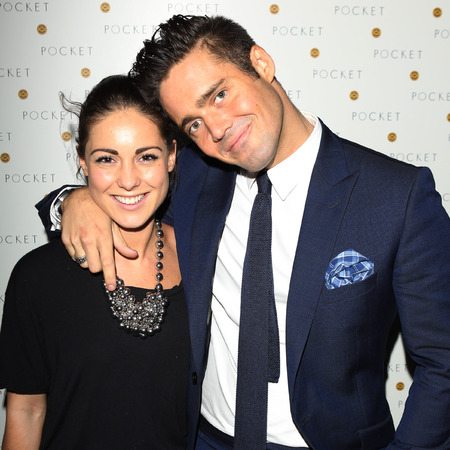 Naturally Spencer's previously cheated on girlfriend Louise Thompson was asked for her opinion on it all.
Louise said, "It's all a bit too familiar for me. I think everyone saw it coming and everyone did warn you which is fair. I just hope, Lucy, that you're as ballsy as you say you are."
Lucy replied, "Oh, don't worry. There's no way I could ever get back together with Spencer.
"I wish it wasn't [over]. I love and care for Spencer, I'm very disappointed. That's the only feeling I have."
Urgh, this is all so frustarting.
We'll have to wait to watch Spencer and Lucy discuss their split on The End Of Season Party on 24 June 2013 on E4.
Will you be watching?
MILEY CYRUS TALKS ABOUT WEED NOT BEING AS BAD AS ALCOHOL
WATCH: RIHANNA HITS A FAN IN THE FACE WITH HER MICROPHONE
KIM KARDASHIAN OPENS UP ABOUT MOTHERHOOOD