Photographer Jade Beall wants to showcase mothers just as they really are, flaws and all, in a bid to help women embrace their post-pregnancy bodies.
After posting a series of semi-nude self portraits after giving birth to her son, the photographer followed it up with a shot of her friend's body (above) which sparked thousands of likes on Facebook and messages of support from other women.
Beall has since launched
A Body Beautiful project
, where she has been capturing striking images of pregnant women and mothers of various ages for free in her studio. The photos and the women's accompanying stories of battling with self confidence issues will appear in a book, which is being crowd funded through
Kickstarter
.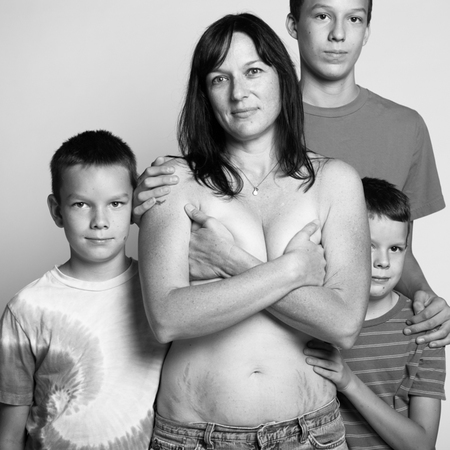 'We are facing an epidemic of women who feel unworthy of being called beautiful,' Beall told the
Huffington Post
.
The photographer continues that 'nearly all of us struggle to feel beautiful in our own skin,' and that the expectations faced by women after giving birth are even harsher.
'Shaming mothers for not 'bouncing back' after childbirth can cause feelings of failure when being a mother is challenging enough and when a big number of us have already lived a life of feeling un-beautiful prior to giving birth,' she says.
After this project, Beall hopes to tackle more projects, on themes such as ageing, eating disorders, and cancer.
'My dream is to be a part of a movement of being kind to ourselves and to others and witness a generation of young people that no longer waste years of precious life on self-loathing like I have because they think they are un-beautiful,' says Beall.
DEBENHAMS BANS AIRBRUSHING OF LINGERIE MODELS
CONFIDENT AND BEAUTIFUL KIM KARDASHIAN WEARS BIKINI
BANISH YOUR PREGNANCY AND LABOUR FEARS