We already thought Marvin and
Rochelle Humes
chose an adorable name for their daughter, Alaia- Mai, but now she's revealed the sweet meaning behind the name.
Speaking exclusively to
Handbag.com
, the singer explained, "It was one of those things that just sort of happened.
"She was originally going to be called Alaia-Rai because I liked that but then she was born in May and Marvin had this thing for the name May and so that's how that came about.
As for how she found the name Alaia, Rochelle revealed, "I just really liked the name, I found the name when I was in America.
"I had literally just found out I was pregnant and I heard someone call their little daughter and she looked so cute.
"And I was like, 'Oh i love that name.' It's actually an Arabic name and it means joyful.
"I told Marvin and he fell in love with it and then he chose the Mai."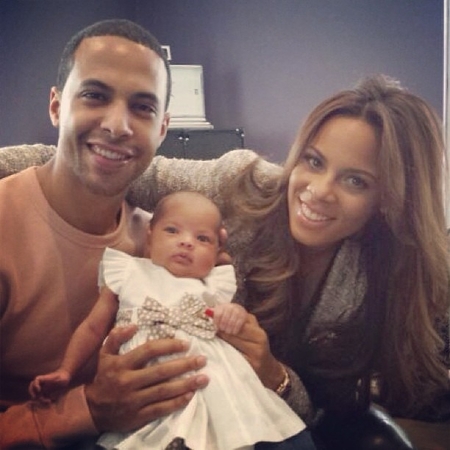 N'aww we love the fact it means joyful. The pair have recently been gushing about their little bundle of joy on Twitter.
Rochelle wrote, "So in love with my little angel. Could watch her sleep for hours on end...too much love I could explode..♥"
While Marvin added, "@RochelleTheSats we are very lucky baby x".
And now Rochelle is back to work with The Saturdays, other celebs are getting a chance to see little Alaia-Mai.
Kimberley Walsh tweeted, "Got a cheeky little cuddle with Alaia-Mai at our pop head quarters today ‪@RochelleTheSats‬ ‪@MarvinHumes‬ she is amazing! ‪#toooooocute‬"
The Saturday's new single,
Gentleman
, is out on 30 June 2013.
Do you love the meaning behind Alaia-Mai's name as much as we do?
ROCHELLE AND MARVIN REVEAL ALAIA-MAI TO THE WORLD
WATCH: KRIS JENNER CONFIRMS NORTH WEST'S NAME
KOURTNEY KARDASHIAN REVEALS THE BEST WAY TO SHIFT BABY WIEGHT