Justin Bieber
has only gone and got another tattoo and, surprise surprise, it's another random etching plonked on a random part of his body...
The tattoo, believed to be his 16th, is supposedly a tribute to his mum Pattie Mallette.
The teen popstar opted for a loving - if slightly creepy - tattoo of her eye on his inner elbow.
Uhh ok...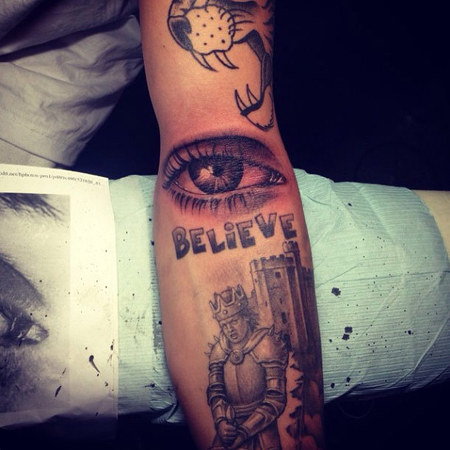 Below the snap, Justin said, "@bangbangnyc did this art ., Mums always watching ;)"
Yes, because that's just what you want, your mum always watching your misbehaving ways, Justin. Remember
urinating into a restaurant's mop bucket
? Not so sure she'd be so keen to see that...
Surely the 19-year-old must be running out of body space?
What do you think of Justin's new ink?
BEYONCE AND RIHANNA UNLEASH THEIR INNER DIVAS AND SCOLD FANS
RITA ORA AND JUSTIN TIMBERLAKE TO MAKE MUSIC TOGETHER?
MILEY CYRUS WORKS THE SUMMER GOTH LOOK AS SHE HITS LONDON