The Canyons
is an upcoming erotic thriller-drama directed by Paul Shrader and written by Bret Easton Ellis, featuring troubled star Lindsay Lohan and porn star James Deen.
That sentence alone should be enough to put you off. But it gets weirder.
The plot revolves around violent and controlling LA movie producer Christian, played by James Deen, discovering his girlfriend Tara (Lindsay Lohan) is having an affair with leading man Ryan (Nolan Gerard Funk).
After he becomes aware of the affair, Christian spirals out of control and his cruel mind games escalate into a sexually charged tour through human darkness with plenty of bloody violence.
Although it's set in LA, the film attempts to show the darker side of Hollywood and explores themes like youth, sex, glamour and surveillance.
To remind you this isn't just another 'Hollywood blockbuster', the film's humorous tagline is 'This is not
The Hills
', referring to the LA reality show revolving around the glamorous lives of Lauren Conrad and her twenty-something pals.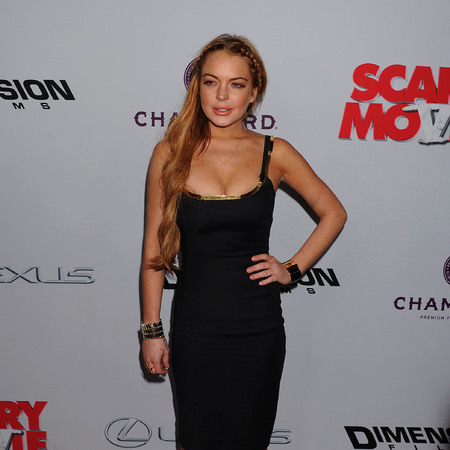 Lindsay Lohan, who has been embroiled in a number of court dramas recently (not to mention her stint in rehab), is desperately trying to stay in the movie world. Perhaps that's why she agreed get naked (a lot) in this unusual thriller.
And James Deen? The notorious porn star has been rumoured to be using
The Canyons
as his big break into Hollywood. However the star himself disagrees and admitted to the
New York Post
that he has "no desire to leave porn".
There's been mixed reviews about the low-budget film, but James reckons it's worth seeing just to "see Lindsay Lohan's boobs and to see if the porn guy can act". Okay then.
Check out the trailer below...
Also, if you really want to know what Lindsay Lohan is like to work with on set, then watch James Deen awkwardly try and deflect that Lindsay was a total diva...
Wow. Could've just said no, James. The film is scheduled to be released on 9 August.
What do you think? Will you be rushing for a ticket?
JAHMENE DOUGLAS LANDS NUMBER ONE TOP SPOT WITH DEBUT ALBUM 'LOVE NEVER FAILS'
BIG BROTHER'S DALEY OJUEDERIE WANTS TO RE-ENTER THE HOUSE
TOM DALEY LANDS HIS FIRST PRESENTING ROLE ON NICKELODEON FRUIT SHOOT AWARDS