So you've packed your honeymoon lingerie, got some designer shades and had a wax - but wait, how will everyone on the beach know you've just got married? Enter the bridal bikini.
Created to make newly weds feel special - Sports Illustrated model Chrissy Teigen has designed a new range of bikinis just for brides and got her good friend
Kate Upton
to model them with her.
Inspired by her own upcoming honeymoon to the Maldives, the model is engaged to crooner John Legend and for the past 18 months has turned their very long engagement into a profitable business (including having a bridal shower sponsored by Gilette Venus. Classy).
The range is produced for Californian swimwear company
Beach Bunny
and includes bikini bottoms with 'Bride' written out in Swarovski crystals on the bum, lace trims, frills (basically think wedding dress - in bikini form) and includes shots like this using veils: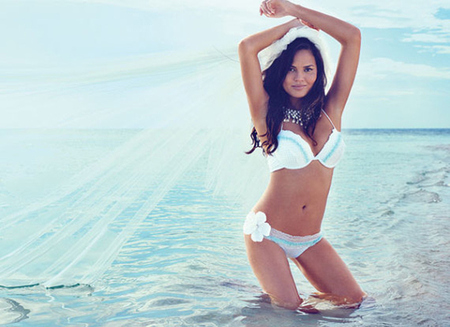 Now it would be very easy to mock this, very easy, because there is just so much wrong with the whole thing, like:


It's as tacky as you like


It perpetuates the myth that brides need to spend a fortune on stuff like this to make their wedding day special


Odd that Teigen has pimped out her wedding as a money making scheme (good luck with yours John Legend)


We hate the word 'Bride' emblazoned on anything - especially if it's sparkly


Why would you need a veil in the sea? That's just silly.


Teigen is actually getting married at Lake Como, Italy, wearing Vera Wang - not on a beach Katie Price stylee


But - we actually don't mind it. Take off the veils and the designs are actually quite cute (crystal 'bride' aside - that can never be forgiven) and heck, if you can't be a bit tacky at your wedding, when can you be?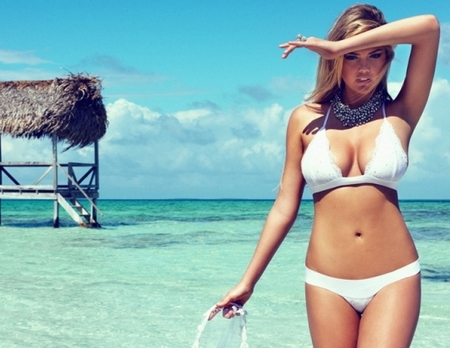 KATE UPTON'S CIRCUIT TRAINING WORKOUT & DIET PLAN
ADAM LEVINE'S FIANCÉ BEHATI PRINSLOO SPILLS ON HER ENGAGEMENT
HOTEL REVIEW: FANCOURT, GARDEN ROUTE IN SOUTH AFRICA