A High Court judge has ended TV chef
Nigella Lawson
's 10-year marriage to millionaire art collector Charles Saatchi in less than a minute according to new reports.
Nigella, who was not present at the decree nisi hearing, cited his 'continuing unreasonable behaviour' as the main factor.
The pair will now have to wait for a 'decree absolute' which is expected to be officially rubber stamped in September.
Court paperwork shows that Nigella, 53, was the one who applied for the divorce despite Charles declaring he was the one who was divorcing her.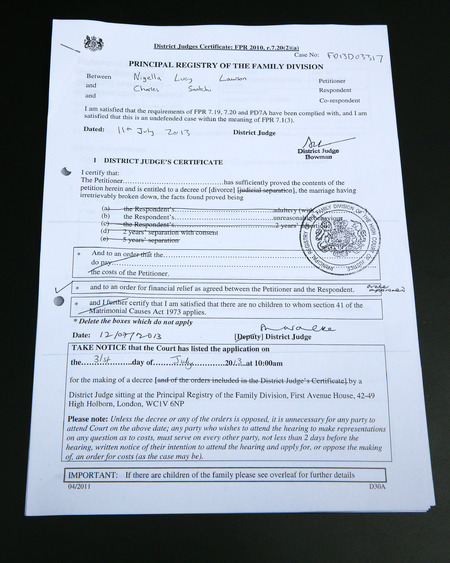 The hearing at London's High Court in front of District Judge Anne Aitken lasted less than a minute. The marriage was said to have 'irretrievably broken down' and an 'order for financial relief' has been agreed between the petitioner and respondent.
WOW.
In the divorce petition Nigella confirmed that her ex-husbands bad behaviour was 'continuing' and that they were living apart. According to insiders the pair, who are worth £150 million combined, will never reveal the terms of the divorce or the final financial settlement. However, they are understood to have signed a pre-nup.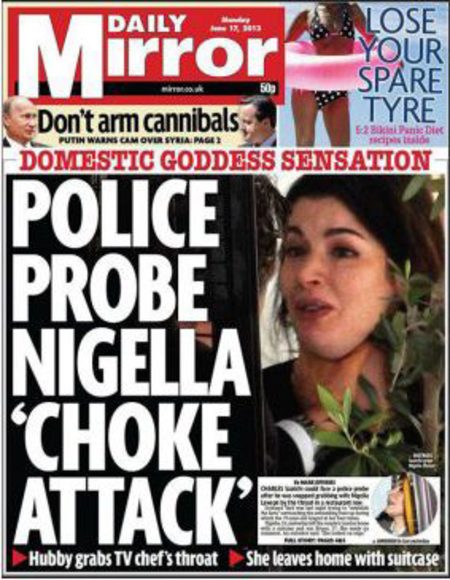 The couple's marriage ended after Saatchi was pictured choking his wife at a London restaurant last month.
What do you think?
KATE UPTON MODELS NEW BRIDAL BIKINIS
MOLLIE KING DOES BRIDESMAID CHIC FOR SISTER'S WEDDING
SNEAKY CELEBS THAT MARRIED IN SECRET