Benedict Cumberbatch
sent a message to the UK government while he took a break from filming
Sherlock
in London not long after being papped with his head down holding a handwritten note saying, "Go photograph Egypt and show the world something important".
Now the
Sherlock
star has chosen to seize the opportunity again to let paparazzi photograph him as he highlighted the recent detention of the partner of British journalist, Glenn Greenwald.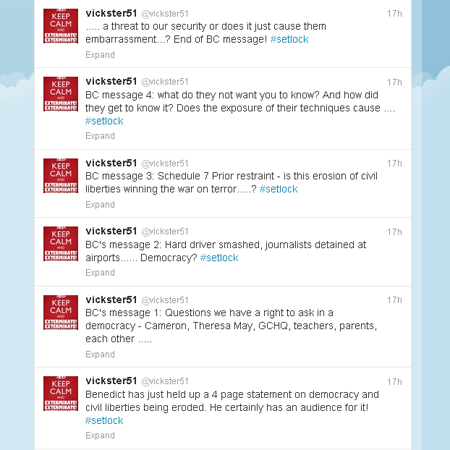 In a series of four notes scrawled on pieces of paper, he appeared to be directing the messages to Prime Minister David Cameron as he asked, "Is this erosion of civil liberties winning the war on terror?"
Then he defended the journalist, who was the first to publish the reports based on documents obtained by American whistle-blower Edward Snowden. His last message read, "Does the exposure of their techniques cause a threat to our security or does it just cause them embarrassment?"
After his message, he went over to fans to say that it was "meant for the paps".
Sherlock
moved filming for its final episode to North Gower Street in London as fans came out to watch the star film scenes with Martin Freeman for the
BBC
show.
Maybe Benedict should enter the world of politics? What do you think?
BENEDICT CUMBERBATCH IN SHERLOCK SERIES 3 TRAILER
BENEDICT CUMBERBATCH IN GAY WEDDING
5 REASONS WHY WE FANCY BENEDICT CUMBERBATCH