Miley Cyrus
and Liam Hemsworth's relationship has been nothing but a rocky ride this year - and it's easy to see why. Liam has been sitting quietly in the background while cute country singer Miley has morphed into a sexed-up rock chick who has the World constantly guessing what her next controversial trick will be.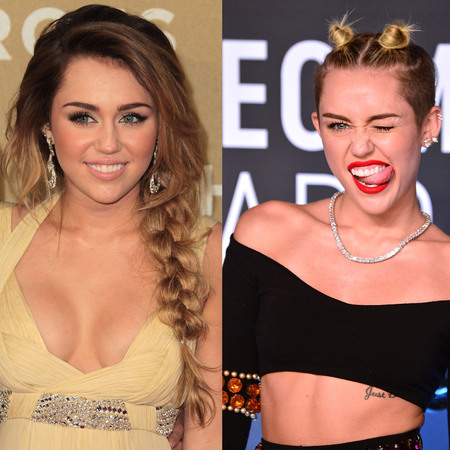 Not exactly the girl you took home to meet your ma, eh Liam?
It now seems the are-they-aren't-they couple have finally settled on 'aren't' as it has been reported they are taking a break from what must be a torturous relationship.
A source told
RadarOnline.com
, "They've split for now. Miley and Liam have a very tumultuous relationship and both are exhausted. It's a complicated relationship. The wedding is on hold, for now. It's not cancelled but it doesn't look promising."
And it looks as though Miley is the one who has called time on the four-year relationship as she did the Celebville version of making the breakup 'Facebook official' by unfollowing him on Twitter. We may never know who decided to trawl through Miley's follow list on the off-chance, but we thank you.
However, it has been reported that Liam is in fact still following Miley. What are they trying to tell us with these cryptic social media messages?!
It is thought the issues in their relationship have come from Liam's concerns over Miley's erratic behaviour. It has previously been said that Liam is "embarrassed" by the way Miley has been acting: the VMAs performance, her provocative dress sense and then the
Wrecking Ball
video, but the ex Disney star doesn't seem keen on changing her ways.
Even Sir Elton John has recently piped up about his concerns for Miley, "I look at Miley Cyrus and I see a meltdown waiting to happen," he told
The Australian
.
Whatever is going on with the pair, it seems unlikely that career-minded Miley would stop twerking her way to the top just to please her boyfriend.
Do you think Miley and Liam are better off apart?
WATCH: MILEY CYRUS NAKED IN WRECKING BALL VIDEO
MILEY CYRUS DONS CUTOUT PVC FOR NOTION MAGAZINE COVER
MILEY CYRUS BRAGS OF 306,000 TWEETS A MINUTE