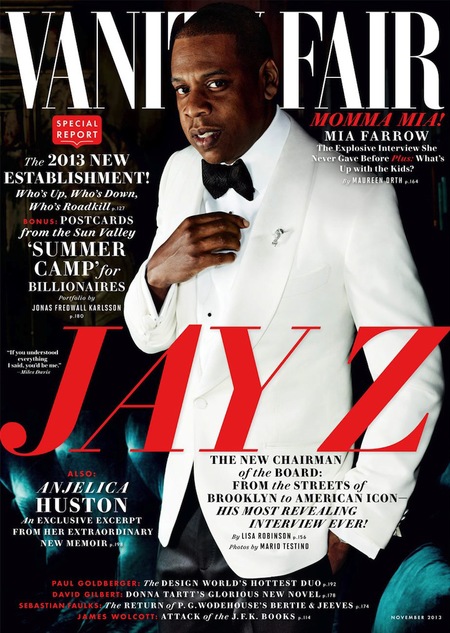 If you've got big dreams of owning your own business, opening your own shop or expanding your existing trade you can pretty much go one of two ways when it comes to learning new skills. You can follow
Jay Z
's advice and use your cider-drinking, drug smuggling youth to inspire your business acumen or you can buy a book, surf the net and learn everything you need to know without risking jail time...
In an interview with the November issue of
Vanity Fair
magazine, Jay openly admits that he can handle a budget because of his drug dealing days on the streets of NYC.
Thankfully, as one of
the richest blokes on earth
he doesn't really have to deal with quarters and dimes any more.
He said, "I know about budgets. I was a drug dealer. To be in a drug deal, you need to know what you can spend, what you need to re-up."
He continued, "I was thinking about surviving. I was thinking about improving my situation. I was thinking about buying clothes."
Okay, okay, so maybe dealing cocaine isn't the best way to go, but Jay kinda', sorta' has a point. If you want to learn how to run a business you need some practical experience, some key knowledge a a little bit of luck.
If you'd rather run a business and not the tuck shop in the women's correctional facility, here are a few top tips...
1. Don't be too proud to go back to basics:
So what if you're a 40-year-old woman who wants to start her own business from scratch? That doesn't mean you won't need to understand the
basics of business
before you throw yourself in at the deep end. Don't pick up a professional book before you've read those
GCSE textbooks
and don't plan a budget to show the bank until you know
why
you're making one. Start at the bottom of the ladder instead of trying to throw yourself at the top rung.
2. If you can't manage your own money...
How can you expect to manage your business' money? Good habits start at home, which means monitoring your incomings and outgoings, sticking to budgets, sorting out your debt and considering what you need and don't need. All of these skills are transferable to your business venture and will help you stay in control in the long term. Need a place to start? Try
Money, a Love Story: Untangle Your Financial Woes and Create the Life You Really Want
, £12.99,
here
.
3. Speak to the bank:
Banks want to help your business to succeed, they really do, but they also need to know that the person and the company they're investing in is legitimate, organised and destined to succeed in the long term. Get online and read your bank's guide to business, like
Barclay's 'Starting your own business' page
or
Lloyd's 'Business Banking' page.
If you've got a friend who own's their own company, why not ask for advice?
4. Back to school:
If you want to really turn your idea into a life plan you might need to get some qualifications under your belt. Visit the
The National Careers Service Course Finder
to find out all the different options for you, or to learn more about further education read our guide
here
.
5. Be prepared to explain yourself:
Everyone around you will want to know why your business is better than everyone else's, so be prepared. What's your USP (unique selling point)? How will you promote and sell your wares? Who's your biggest competition? You can download
free business plan templates from the Government's official website
and discover loads more advice about what you really need to do to get your
business off the ground.
What do you think? Are you thinking of trying the drug route or the slightly safer option?
MIRANDA KERR ADMITS ALL MODELS ARE INSECURE
REAL MEN IN PANTS ADVERTS
HOW TO DEAL WITH AWKWARD SITUATIONS AT WORK