Girls Aloud singers
Nicola Roberts
, Cheryl Cole and Kimberley Walsh have been partying fetish-style in an adults-only nightclub in Amsterdam.
To celebrate her 28th birthday Nicola wanted to do something special, which meant getting her toes sucked by a leather clad fetish slave according to these pictures.
The gang flew over to Amsterdam to sample the delights of the red light district and ended up in one of the Dutch city's famous sex-clubs...hopefully there was no actual sex happening.
Cheryl didn't seem too impressed with the toe sucking though. She posted a photo of the foot-obsessed 'culprit' with the caption, 'HELPppppp!!!!'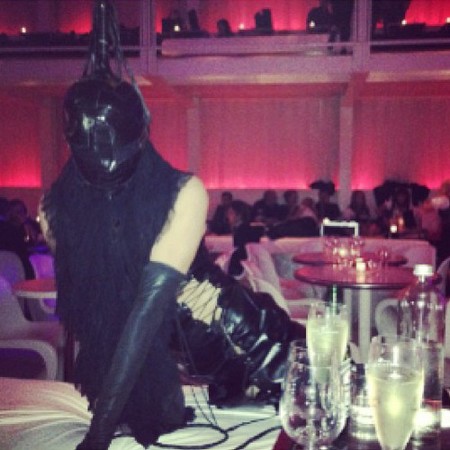 The weekend away didn't get off to a very good start. Cheryl and Nicola ended up missing their flight by a whole hour! It must have been the distraction of packing all those designer clothes. Sigh.
During their wait in the BA lounge, Cheryl quickly took to Twitter to dispel rumours that she'd got into a fight with airport staff. She Tweeted...
Reading your tweets and me and Nic are !! Once again Nicola does the crime Cheryl does the time ! #somethingsneverchange

— Cheryl Cole (@CherylCole) October 4, 2013
What do you think? Do you fancy a fetish night out?
BRITNEY SPEARS'S NEW ALBUM NEARING COMPLETION
GLEE TEASER TRAILER FOR CORY MONTEITH TRIBUTE
BRUCE FORSYTH ABSENT FROM STRICTLY TONIGHT
MILEY, RIHANNA, KESHA: THE MUSIC "PROSTITUTES"?