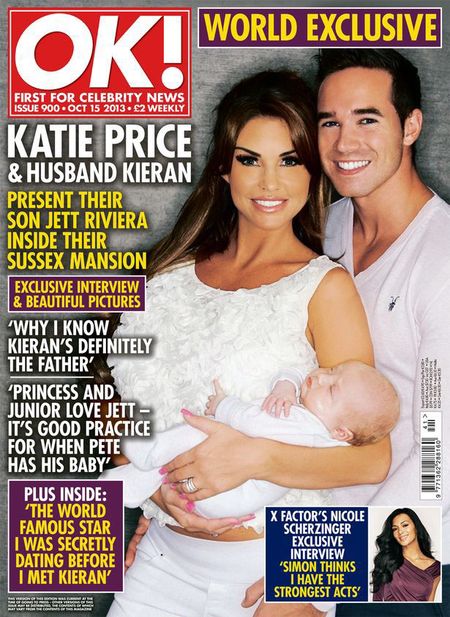 This is
Katie Price
's
first interview with a magazine
in three and a half years, so you just know it's going to be a corker! The glamour model and mum-of-four was asked all about her life with
Kieran Hayler
, the
dramatic emergency c-section
that nearly cost her her son Jett and her ex-lovers...all in a day's work right?
Here are a few choice quotes from the interview...
• On her ex-boyfriend
Danny Cipriani
, "He's got a chipolata!"
• On giving birth to Jett, "I was trying to explain to the doctor that I'd had postnatal depression with Junior, and that I didn't want to get it this time round."
• On privacy, "[Jett was born on] August 12, but no one knew that he'd been born until almost a week later. It just goes to show that in this industry you can keep things private."
• On her daughter Princess, "Princess tries to copy me, and when he cries she wants to pick him up and jiggle him about!"
• On sex, "Like I say to girls, if you like a man, don't open your legs straight away. And I didn't do that, even though I wanted to because as soon as I saw him [Kieran], I was like, oh my God, his body is incredible."
• On her son Harvey, "Sometimes he's just standing in the doorway of our bedroom staring - it's like paranormal activity!"
We can't say that we're big fans of this no-nonsense 100% honest approach to life. It only lands you in hot water and gives others the ammunition they need to throw your own dirty laundry in your face - something Katie has experienced with
ex-husband Alex Reid.
Remember when
Katie admitted she hadn't used protection in four years!
Not only did we go eeeewwwww, but she was publicly criticised for setting a bad example to young women.
Despite this, Katie's up-front attitude and fly-on-the-wall reality TV programmes have built her a strong fan base of people, who seem to prefer her transparency. Take a look at these fan Tweets...
Dont think I've ever seen @MissKatiePrice look as happy and content as she does in this weeks OK! Finally have my pricey fix!! #welcomeback

— Lauren Atkinson (@xLaurenAtkinson) October 8, 2013
@MissKatiePrice stopped buying the mags 2 years ago as they r boring but will get OK if you have given an interview- at least u r honest

— Susannah (@SusannahSe) October 2, 2013
So, what do you think? Is Katie Prince being too honest or is she a breath of fresh air?
PREGNANT KATIE PRICE IS RUSHED TO HOSPITAL ON HOLIDAY
KATIE PRICE TALKS KISSING
MORE CELEBRITY NEWS