Time to stop your pouting - it has been confirmed.
Christian Grey
will be played by the super hot
Jamie Dornan
and all the petitions in the world are not going to change it now.
Generally - the response has been overwhelmingly positive. Which has got to be a proper kick in the nuts for poor
Charlie Hunnam.
Ian Somerhalder and Matt Bomer
campaigners are still slightly miffed (but they were always going to be. EL James did say it wasn't going to them, ages ago. Pay attention. You only have yourselves to blame.)
Here's what the world is thinking. As always - Lena Dunham says what we're thinking (we might as well go home. Lean speaks for the group).
I'm a monstrous @JamieDornan1 fan. Wasn't allowed to be attracted to him on The Fall bc he played a sexmurderer. 50 Shades is my big chance!

— Lena Dunham (@lenadunham) October 24, 2013
Now this is what I'm talking about @JamieDornan1 is the Mr Grey! Great pick @E_L_James !! #fsog

— Abi Bowhay (@MissAbiBowhay) October 24, 2013
Well hello mr grey! #fiftyshades #cast #beaut @JamieDornan1

— Laura McGinlay (@LauraMcGinlay) October 24, 2013
I can 100% get behind Jamie Dornan as Christian Grey

— Rae Quigley (@rexraetard) October 24, 2013
I COULDN'T AGREE MORE RT @BretEastonEllis : @JamieDornan1 is the perfect choice to play Christian Grey in #FiftyShadesofGrey #JamieDornan

— raph_desm (@raph_desm) October 24, 2013
New Mr grey. Well we ain't always going to be pleased. But Jamie Dornan is really handsome.

— Ashleigh :) (@ash_1073) October 24, 2013
JAMIE DORNAN IN 50SHADES NOOOOOO WHYYYYYYYY

— sahira z (@sahirawr) October 24, 2013
Jamie Dornan for Christian Grey? Still not Matt Bomer? Owkayy.

— Wu (@shufflinalex) October 24, 2013
Confirmed, @JamieDornan1 will play as Christian Grey in Fifty Shades of Grey. I still want Matt Bomer to play the role :(

— Lyka Calago ♔ (@HeyLykaBoss) October 24, 2013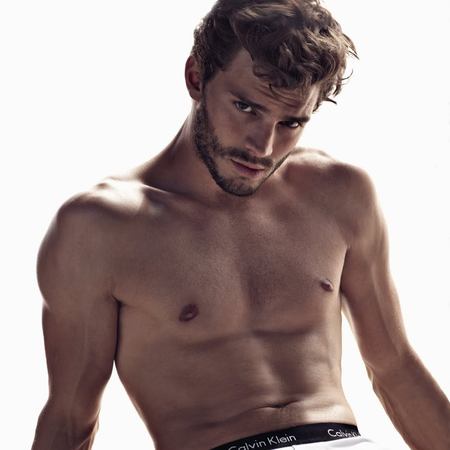 EVERYTHING YOU NEED TO KNOW ABOUT JAMIE DORNAN
CHARLIE HUNNAM ADMITS WHY HE QUIT FIFTY SHADES
ALL THE NEWS ON FIFTY SHADES