David Dinsmore, the editor of
The Sun
newspaper spoke today about the future of his title within the changing landscape of media.
With that came inevitable questions about the
Page 3 debate.
He told audience members, who questioned the continued use of glamour models like
Helen Flanagan
, "I make the paper for the readers."
He went on, "I don't make it for the No More Page 3 campaign, the Twitterati or for readers of the Guardian".
He explained that the decision to keep it up came after serious consideration, but at the forefront of their choice was always going to be maintaining their brand.
He said, "The word that came back was 'do not touch it' [people] see it as an intrinsic part of the brand and taking it away was brand-eroding".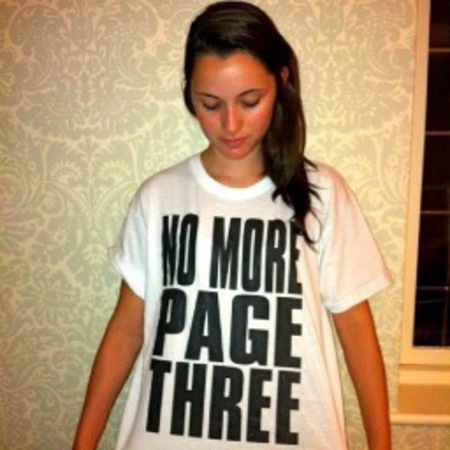 In terms of the future of the paper and the campaign he did say, "never say never," however for now they have "parked the issue and we move on".
He explained that it is "not set in stone that there must be pair of breasts on Page 3 every day in
The Sun
.
"We produce a living, breathing organism every day. How that lives and breathes depends on the material available on that day".
So their argument seems to remain, as long as enough people want to see boobs - and enough
women are happy to show them off
- this page is here to stay.
Meanwhile,
the petition to abolish the page
has reached 122,000 signatures today.
What do you think of Page 3? Tweet us
@handbagcom
Here's MP Caroline Lucas making her opinion known a few months ago:
WHO'S CALLING MILEY AND GAGA "WHORES" NOW?
ARE POSH GIRLS OK WITH SEXISM?
MORE IN LIFE