Outspoken comedienne
Joan Rivers
is battling claims that she crossed the line after brandishing
Jennifer Lawrence
'arrogant'.
The war of words started after
Hunger Games
actress and Oscar-winner Jennifer accused Joan's hit show
Fashion Police
of promoting negative body image among young women.
23-year-old J-Law's never been afraid to discuss the Hollywood fame machine, admitting, "The world has this idea that if you don't look like an airbrushed perfect model. You have to see past it. You look how you look, you have to be comfortable.
"What are you going to do? Be hungry every single day to make other people happy? That's just dumb."
But she didn't stopped there. When asked about shows like E!'s
Fashion Police
, Jennifer said they "are just showing these generations of young people to judge people based on all the wrong values."
Cue the wrath of Rivers.
Instead of letting Jen's opinions lie, Joan hit back with a series of hyper-critical Tweets...
It's funny how Jennifer Lawrence loved @E_FashionPolice during Awards Season when we were complimenting her every single week...

— Joan Rivers (@Joan_Rivers) November 12, 2013
But now that she has a movie to promote, suddenly we're picking on all those poor, helpless actors.

— Joan Rivers (@Joan_Rivers) November 12, 2013
WAIT! It just dawned on me why Jennifer Lawrence fell on her way up to the stage to get her Oscar. She tripped over her own arrogance.

— Joan Rivers (@Joan_Rivers) November 12, 2013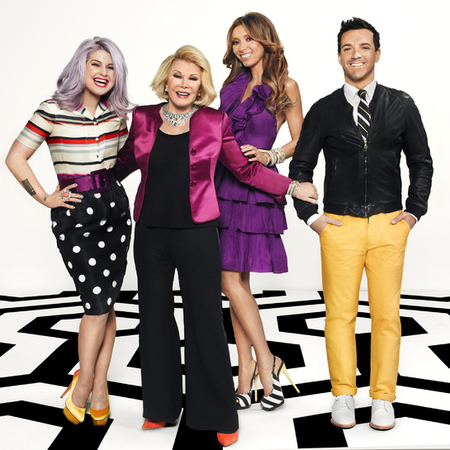 This isn't the first time
Jennifer has opened up about body image
. In this month's Harper's Bazaar, Jennifer admitted she was asked to lose weight because she looked "fat". What!
She said: "It was just the kind of s**t that actresses have to go through. Somebody told me I was fat, that I was going to get fired if I didn't lose a certain amount of weight.
"They brought in pictures of me where I was basically naked, and told me to use them as motivation for my diet. They thought that because of the way my career had gone, it wouldn't still hurt me."
She added, "If anybody even tries to whisper the word "diet", I'm like, "You can go f*** yourself."'
Take a look at what some of our other favourite (and sensible) celebrities have to say about
diet, fitness and health
below...
Whose side are you on?
HUNGER GAMES FASHION: ELIZABETH BANKS 1, JENNIFER LAWRENCE 0?
JOAN RIVERS JOINS THE MILEY CYRUS BASHING
MORE CELEBRITY NEWS